It's already August and the prospect of that beach getaway might still seem a distant dream for many of us, but don't worry! We've rounded up some perfect day-trip vacations to visit from London and picked our favorite day trip essentials to accompany you on your travels.
1. Margate
Who doesn't love a day at the seaside? With beautiful beaches and water at a temperature not too cold for England, set up your deckchair and pretend you're in the Caribbean. Okay maybe that's a bit of a stretch, but Margate does have its own charm with plenty to see and do. Check out the old town for independent shops and food, or go caving at The Shell Grotto.
Get there: Trains go from Victoria or St Pancras, book in advance to get tickets for around £20-£30.
Our day trip pick:
Adorned with the brand's distinctive blue Marston pattern, this tote from Just Kim Prints is handmade and will hold all of your beach trip essentials. It also features a zip on the top to keep your possessions extra secure. All items are handmade in the UK by the social enterprise programme Making For Change, which aims to develop the skills, confidence, and employability of young people.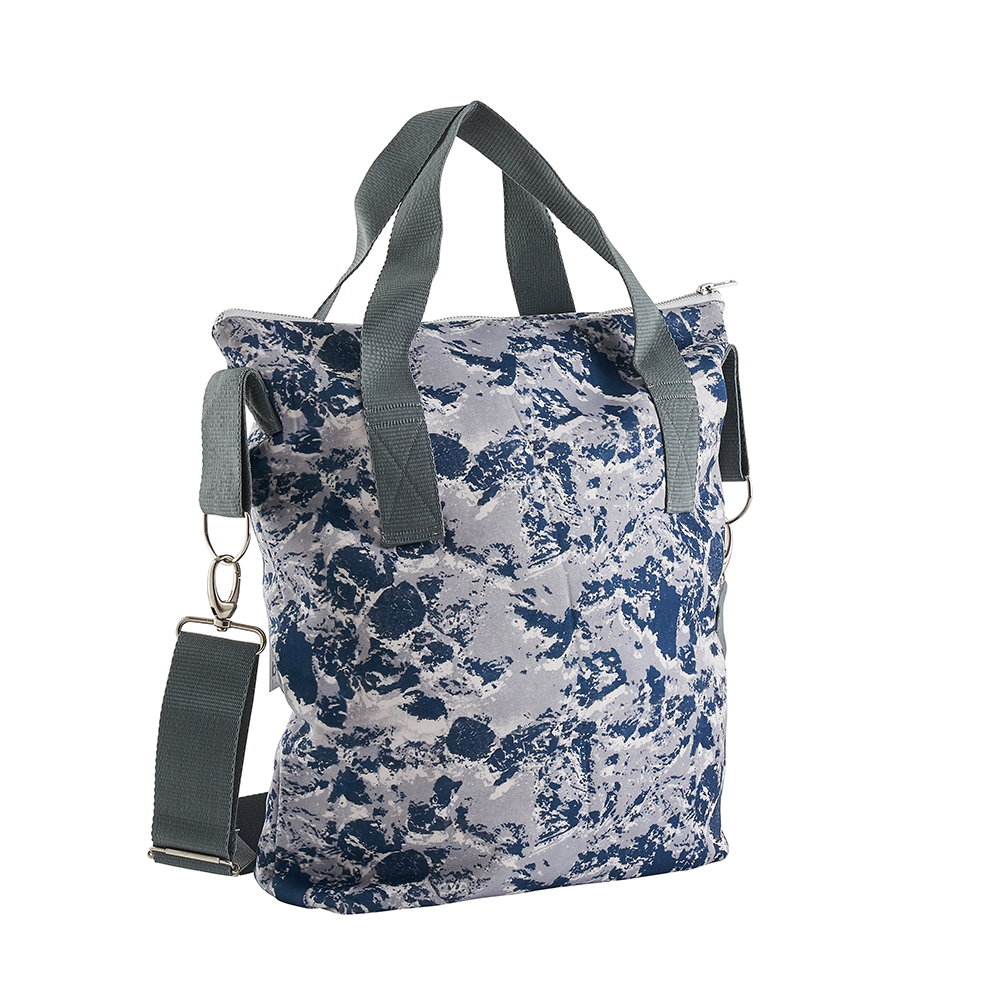 Marston Handmade Tote Bag – Large
---
2. Cambridge
This scenic university town boasts an impressive array of activities for the whole family. Fancy a walk? Try Grantchester meadows, a beautiful riverside walk into the city center with plenty of pubs to use as your start or end point. Or if you fancy a bit of culture, try the Fitzwilliam Museum, with art, history, and activities to keep the kids occupied. And of course, you can't be a tourist in Cambridge without going punting, get some snacks, a few drinks and see the colleges from the river (not recommended if it's raining cats and dogs).
Get there: Trains go from Kings Cross, Finsbury Park, or Liverpool Street, a day return is around £20-£28.
Our day trip pick:
Travel light with this 3 pocket purse from Rosanna Clare. With handy separation for cards, coins, and cash, a stylish gold metallic finish leather for the front section, and a choice of black, tan, or green for the back section. Each purse comes with an antique brass press fastener and a gold leather dividing pocket. This handmade purse is perfect for those days you don't want to carry your whole life around with you.
3 Pocket Gold Purse – Green
---
3. Seven Sisters Walk
No, we're not talking about Tottenham. Feeling like a hike might be the choice for you? Take a train down to Seaford and take on the seven sisters walk before you get the train back from Eastbourne. This hilly stroll will leave you with breathtaking sea views as you make your way across the white cliffs. There are a few options to stop and get a bite to eat along the way, also a bus in case you've overestimated your ability and want to take a shortcut.
Get there: Trains to Seaford go from Victoria and tickets can be as cheap as £12 if booked in advance, trains from Eastbourne arrive into Victoria and can be as cheap as £8.50 if booked in advance – TOP TIP: When booking check the first-class tickets, as they can sometimes be cheaper than a standard single.
Our day trip pick:
Let's face it, we live in England where the weather is highly unpredictable, our pick is this stylish and functional fisherman's style beanie from Pluck'd Designs. Saffie Pluck works with British mills to create the yarn, which is plied and set with reflective tape creating innovative, soft, and functional accessories, so even if you don't finish the walk before sundown, you'll still be visible at night!
---
4. Windsor
Windsor is more than just Legoland and a castle, why not catch Ian McKellen in Hamlet (showing until 25 September 2021) at the Theater Royal? Take in the impressive architecture of St George's Chapel? Or if you're craving some nature, take a picnic and visit Windsor Great Park where you'll see enough deer to put Richmond to shame.
Get there: Trains go from Paddington or Waterloo and will set you back around £12-£14 for a day return.
Our day trip pick:
Find your inner artist in the park, why not take this beautifully handmade sketchbook from Dorsoscoperto and try your hand at drawing nature. Made from materials from London to Rome, each book is designed and crafted from a variety of sources. The aim of Dorsoscoperto is to put together paper found in different cities to make a high-quality, unique, and sustainable product.
---
5. Oxford
Oxford and Cambridge on the same list? Yes! Both are beautiful but offer quite different day trips. Be sure to stop at the covered market for lunch and knock a few back at a tour of The Oxford Artisan Distillery. Of course, if the weather sees fit to gift us with a sunny day that isn't 30 degrees, a stroll through the botanical gardens is sure to give you those English summer vibes.
Get there: Trains go from Marylebone or Paddington. Book in advance to get tickets for £20-£30.
Our day trip pick:
Keep the little ones occupied on the train with this children's travel activity pack from Martin Le Lapin. With 2 lovely screen-printed postcards for kids to colour in and send to loved ones; A newspaper filled with activities (spot the differences, word search, and enigmas); Interesting facts about countries and places, and A passport size booklet filled with creative activities, you can relax and enjoy a moment of peace.
---
6. A festival
Can't wait to get back to live music? Why not hit up a festival this summer and get into the groove. Whether it's seeing all the big names at Reading, chilling out at All Points East, or going all out pop at Mighty Hoopla, a festival is a great addition to your summer calendar.
If you're not quite ready for a big festival again, a few options for free smaller events include the free summer music programme at St Martin's Courtyard, with live performances every Thu & Fri from 4.30pm – 7.30pm, Sat from 12 noon – 7pm, and Sun from 12 noon – 6pm until 11 September. Or the Summer Music In The Park at the Broadwalk Bandstand in Regents Park. And for the little ones, head down to Ravenscourt Park where the world-famous English Chamber Orchestra are running themed and interactive Close Encounters concerts for children. The concerts are aimed at 7 to 11-year-olds but are also suitable for younger children.
Our day trip pick:
You don't want to carry too much at a music festival, big bags get in the way of dancing! That's why we've chosen the HOTELMOTEL 'Grand Taco' bag – perfect for fitting in the essentials, these leather bags are handmade by Montreal artisans and have adjustable straps so that you can wear them around the waist or across the body.