Illustrator and designer Abigail Burch finds inspiration in the quirks and charm of the people, pets and places around her, which she uses to produce humorous, playful and engaging work.
Abigail built her brand whilst studying MA Illustration at UAL and only just graduated this July! We thought she'd be a great person to represent UAL and not just a shop, so we invited her to create a display for our front window.
What was the inspiration behind the design for the window display?
The design was inspired by work I'd made for my final MA project 'It's a Jungle Out There', which illustrates the things people say on dating apps using animals. I'd created a lot of characters for it and so it was great to bring some of these to life in the window. I'd also used the jungle leaves in one particular illustration and thought it would work as a way to frame the window.
Have you ever worked with vinyl or created a window display before?
When I graduated from my BA in Graphic Design in 2012 and didn't know what I wanted to do I actually ended up working as a visual merchandiser for a small local department store. I never got the free rein (or the budget) to do something this creative or use vinyl though so it was a very different experience.
How does it feel to have your work displayed in such a prime location in central London?
I was looking at how many people were walking past while we were installing and it's so busy! So many people will see it, so that's very very cool.
What was the process of designing the window display like?
It was a steep learning curve as I'm not used to working so large or in a 3D space, so the plan for it changed quite a bit. Originally I'd intended to paint the leaves but this was very messy and as it wasn't something I'd done before I felt more confident using printed material such as cut-outs or vinyl. In the end we decided to combine the two and I'm really glad we did as I love the depth and the way the 2 work together. The hardest part then was getting the sizes for such a big window right – it's so hard to imagine how a 1 metre monkey will look when you're looking at it on a small screen!
How do the cards you've created relate to the design?
The cards, which are exclusively available at not just a shop while the window is up, are of the Tourist Tortoise and the Cheeky Monkey. There's also a surprised lion that didn't make it to the window but he's from the same range, which I'll be adding to over the next few months.
What do you want viewers to take away from your work?
Hopefully it will make them smile!
What three things are essential to your practice?
I couldn't work without ink, my iPad pro and a scanner!
Do you have any examples of other artworks?
I do! Below are some examples of the book I created for my MA, showing some of the characters in their original illustrations, including the piece that directly inspired the window – spot the sneaky fox!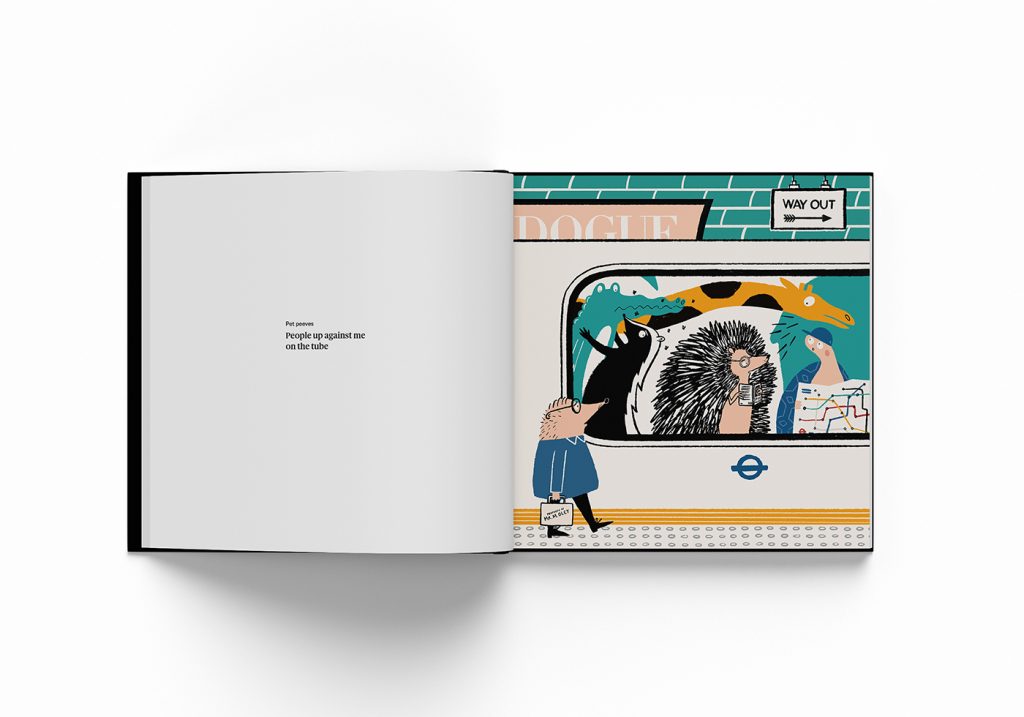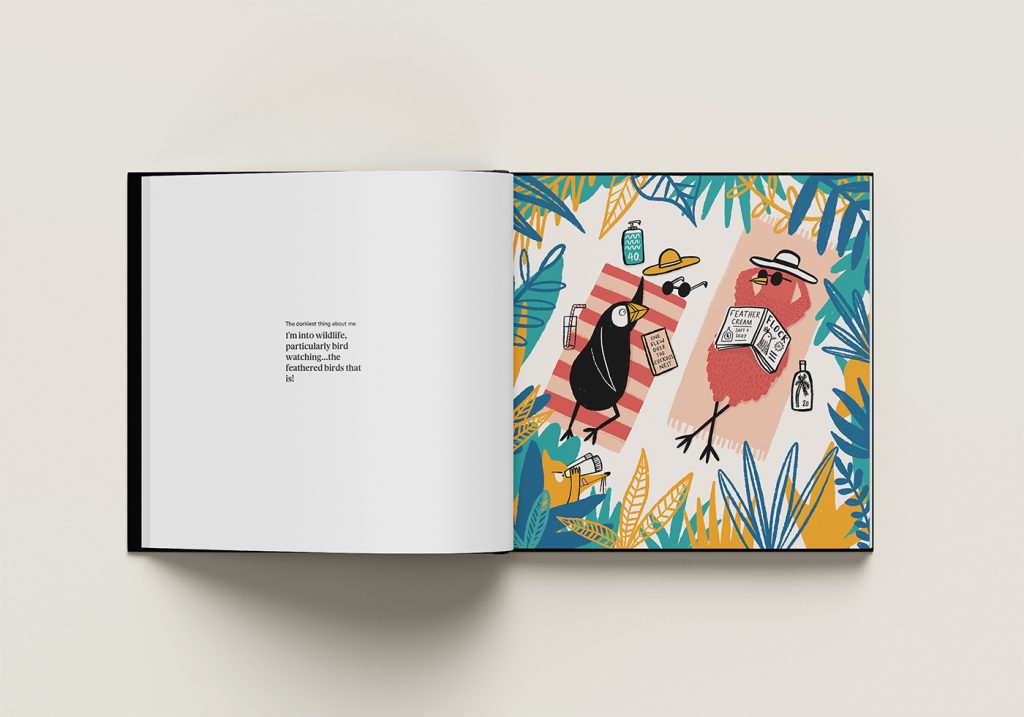 What is the most inspiring place you've been to in London?
I find London so inspiring, so it's really hard to pick one but a couple of my favourites are The Horniman, The National Portrait Gallery and The Huntarian.
What was it like to balance running a brand alongside studying?
It was hard! I was also working so trying to find the time to build the brand was really tricky, and in the end it had to take a back seat for a bit to give myself room to focus on the MA. But I'm really relishing having the time and headspace to spend on it now and so glad I set it up during the course so it was ready and waiting for me when I finished. You can feel really lost when you finish a course that has consumed your life for 2 years, so it's great to have something to focus on. I definitely needed a bit of a break though!
What advice would you give to students wanting to run their own business?
It can feel really overwhelming if you try to think about the whole process of running a business, (and easy to talk yourself out of it) but the main thing is to just start and then take it step by step. It's hard not to feel like you're not ready but giving yourself deadlines/commitments stops you putting it off till the next day/month/year. I made a commitment to do a tradeshow in 6 weeks when I actually had no tangible products, just a few ideas, but giving myself that deadline meant I knew I had to deliver and also meant I didn't have time to overthink it too much.