A huge congratulations to our new selection of artists that are showing with us until late December! Here's a first look at their works.

Keep an eye on our Instagram for artist takeovers and more information over the coming weeks. Remember, you can view and buy all of the artworks in store!
---
Andrew Hardy
BA Painting, Camberwell College of Art, 2019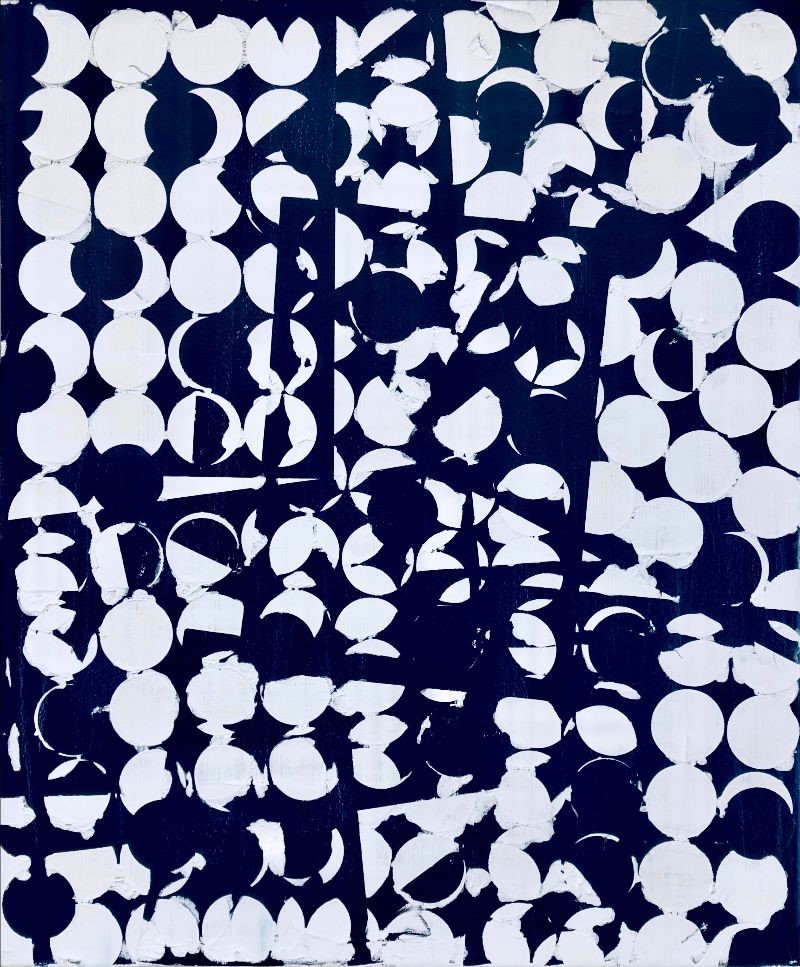 Untitled, 2018, Oil on canvas, 60 x 50 cm, £600
Andrew Hardy's work examines and reflects upon painterly processes and the formal structure and content of a painting. He paints using an abstract language, and his paintings come from the mind more than observed reality. They refer to nothing but their own making.
He uses abstraction to work through broader questions of materiality, gesture, repetition and chance. The tension between chance and control drives much of his work.
---
Juan Mateus
BA Fine Art, Central Saint Martins, 2018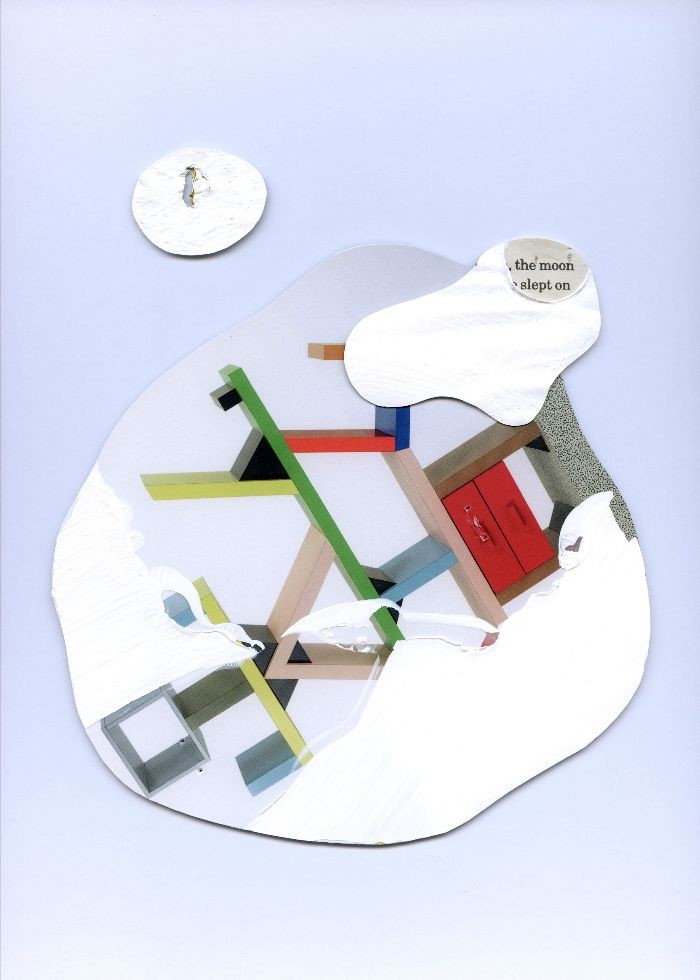 Untitled, 2018, Oil on canvas, 60 x 50 cm, £600
Juan Mateus is a Colombian artist living and working in London. His collages are portraits of London, and are the result of his endless walks around the city. Created in a small A4 format, they can be read as conversations between found objects, you could also say they are a journal as sorts.

Juan intends for his collages to inspire the viewer to imagine the urban landscape as an evolving and never ending stage, where all its components are alive and connected to each other, forever 'talking' to one another.
---
Susanna Brunetti
MA Fine Art, Central Saint Martins, 2018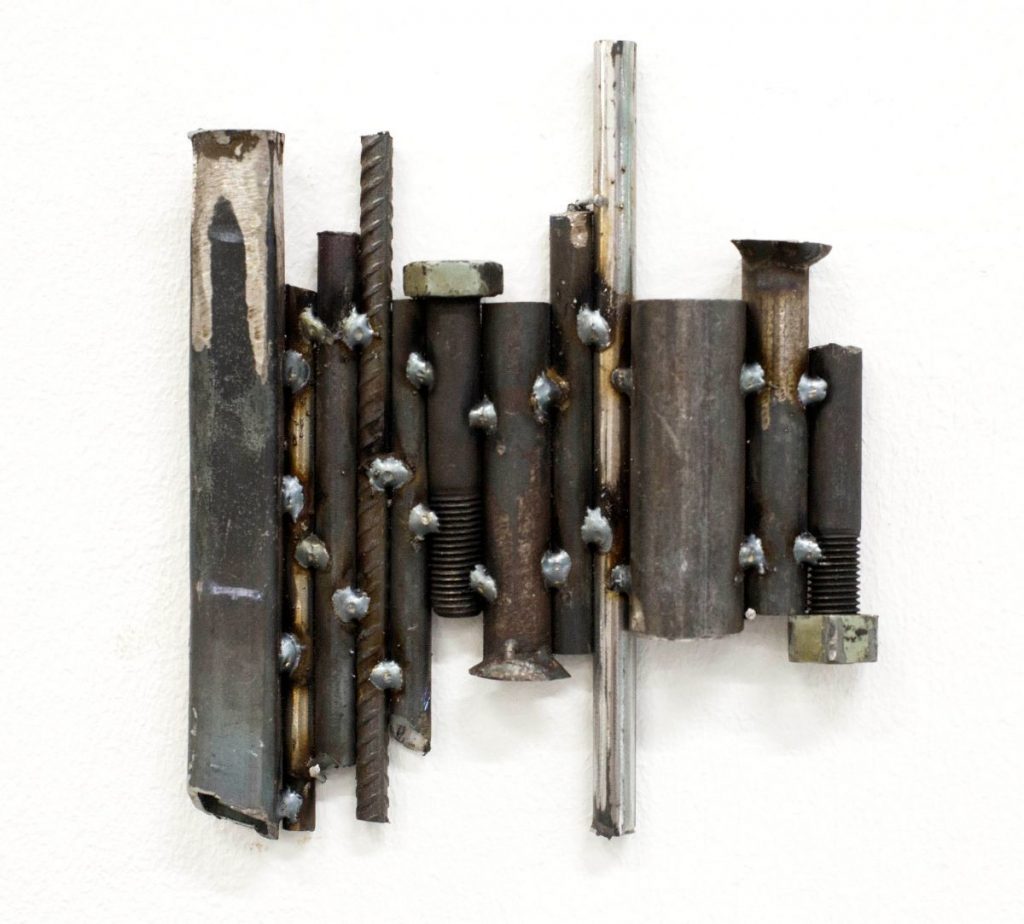 Rhythm 0 (14) , 2018, Scrap metal, 20 x 17 x 1 cm, £350
Susanna's practice started with the sole use of photography and the interrogation of the very idea of an image. Her work is not limited to one means, but broadens from sculpture and performance, to video, installation and so on.
Present in her practice are references to the female body, self-oppression and fear. As well as an ongoing investigation of what it means to be an artist and an individual within our current society. Her approach can be considered quite minimalistic, with a focus on shapes and lines.
---
Rosalind Howdle
BA Fine Art, Camberwell College of Art, 2019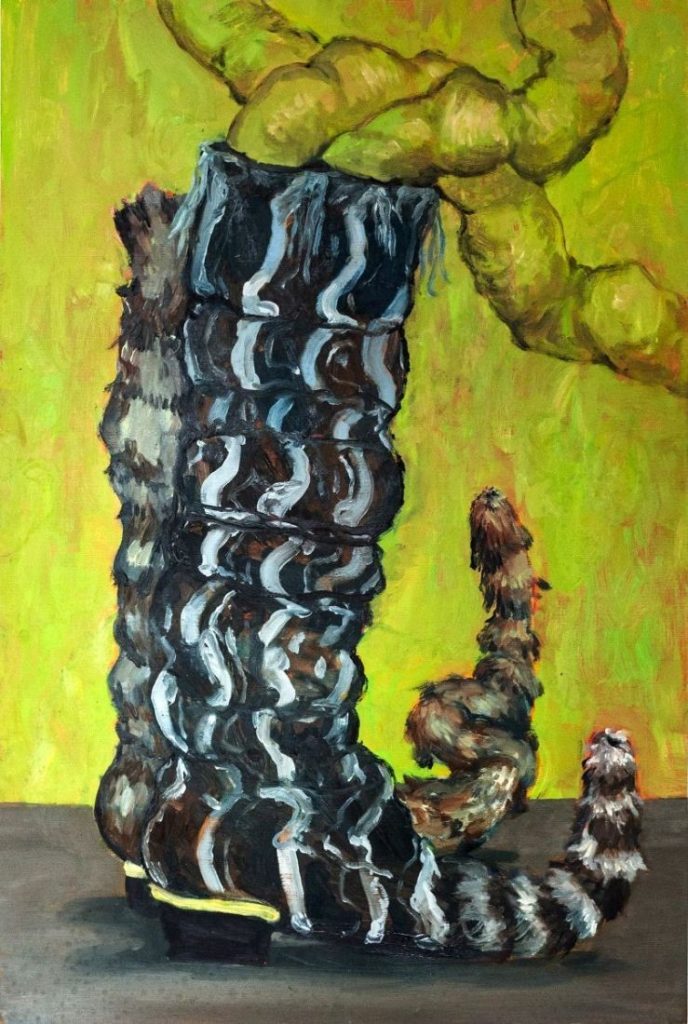 Untitled, 2019, Oil on paper, 70 x 50 cm, £420
Sliding between humour and horror, Rosalind Howdle's paintings are an exploration of the uncanny. She plays upon the tradition of still life with her attention to colour, line and composition, but this is subverted by the nature of her subject matter. Within the themes of costume, mutation and body horror, these paintings toe the line between the disturbing and the playful.
---
Clotilde Chirol
BA Ceramic Design, Central Saint Martins, 2019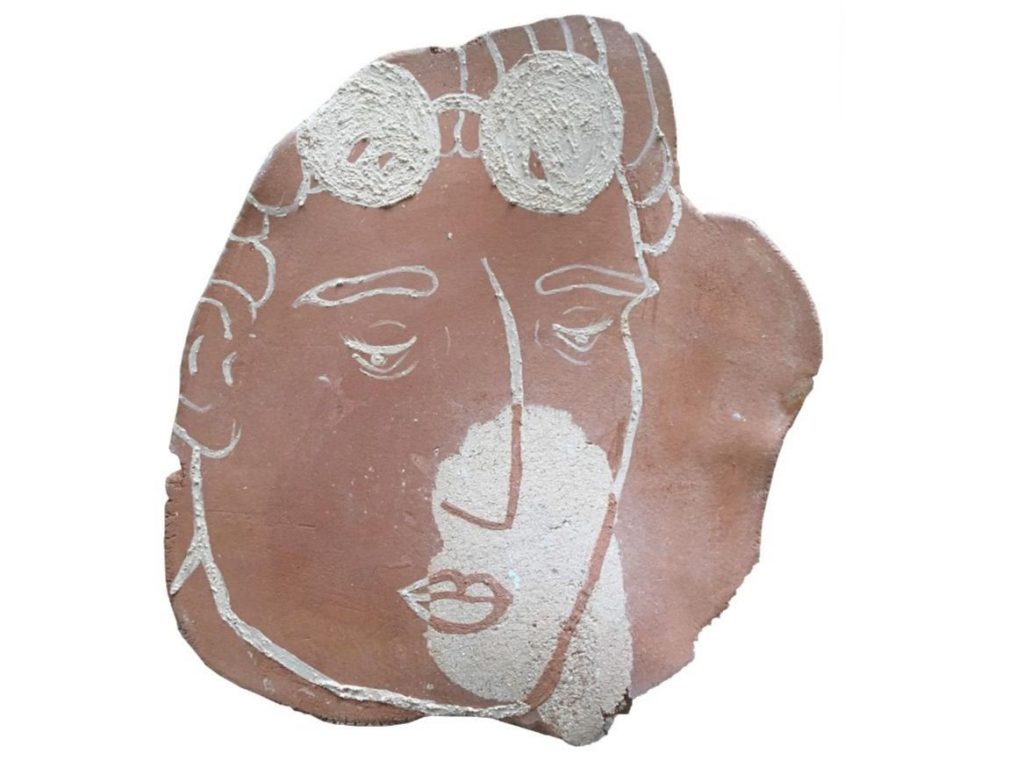 Hello Stranger series, 2019, Terracotta, buff clay, grog clay and porcelain, Various sizes, £70 – 120
Clotilde is a Paris born, London based ceramicist. When she arrived in London in 2015, she found herself observing passengers on the tube, and started making work around the cultural diversity of the city, and its citizens.

As Londoners tend to avoid the gaze of others, Clotilde uses the observations she makes as a form of life drawing. These observations then are reproduced onto clay, each uniquely fragile with a subtle glimpse of identity. The pieces are placed together to create a map, and formed are a response to the diversity of daily life, which is threatened by current political climates.
---
Giulia Caccaiuttolo
MA Fine Art, Central Saint Martins, 2019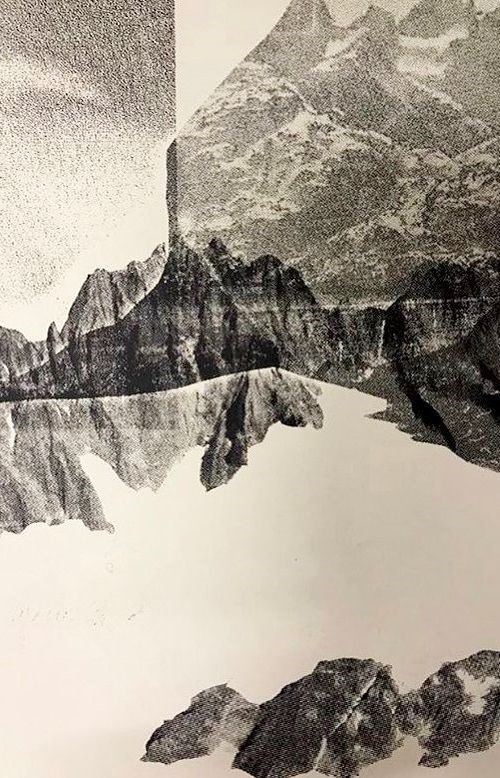 Se il cielo crolla, 2018, Screenprint, Edition of 5, 32 x 25 cm, £130-160
Giulia's research focuses on investigating memory, specifically contemporary archives and archival forms and the ways we relate to them in order to hand down history to the next generations.

Her current practice takes the move from the use of images in archives as a means of registering and remembering a place or person, almost to legitimate existence. One of her aims is to examine what lies behind the selection – and therefore exclusion – of artifacts, artworks and histories in archives and collections, starting from questioning what an archive is today.
---
Abigail Robertson
BA Fine Art, Central Saint Martins, 2019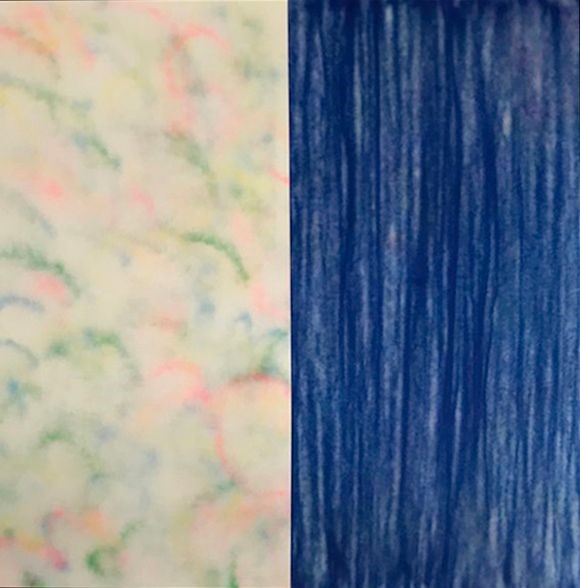 Red, Blue, Yellow, Green, and Navy, 2019, Spray paint on canvas, 150 x 150 cm, £1100
Abigail's practice often alludes to coastal the environments of the Cornish coastline, where she grew up. She initially avoided this when first coming to University, for fear of an inability to move past this particular Cornish identity. Now, the alternative architecture and landscape create the visual language of her work.

Painting is a performative act for Abigail. The scale at which she paints allows her to engage with the medium and material through significant action. Her 150 x 150cm canvases allow her to maintain a large scale whilst still having the freedom of movement that her works ultimately inhabit.
---
Cyrielle Viany
BA Illustration, Camberwell College of Art, 2019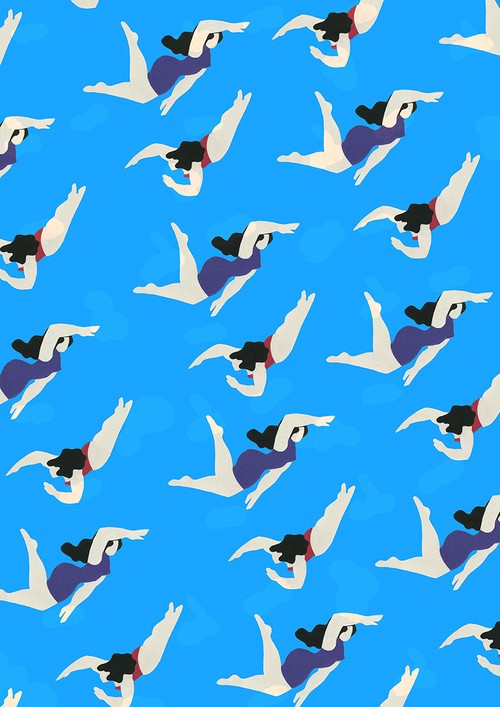 The Swimmers, 2019, Paper cut collage, 42 x 30 cm, £150
Cyrielle Viany is a French illustrator living in London. She makes bold and vibrant visuals using paper collage. Her works often use the body as an intricate, layered shape that flows into other forms, creating aesthetically pleasing patterns.

Cyrielle creates these motifs by intricately cutting out each individual shape and then carefully layers each on top of the other. Even when she scans in these collages to make digital prints, they still retain a handmade aesthetic, making them a balanced mixture between the mechanical and manual.
---
Please email notjustashop@arts.ac.uk to enquire about any of our available artwork or visit the shop to view it on display.

You can also browse and buy a range of our products on our online shop.