Once again, not just a shop have collaborated with the Arts SU to celebrate LGBTQIA+ History Month in February. The LGBTQIA+ Showcase Competition was open to students across the university, tasking them with submitting a piece of artwork that encapsulates LGBTQIA+ History Month.
We are pleased to announce that the winner of the showcase competition is Emmanuelle Iroakazi, a second year student studying Media Communications at London College of Communication. The winning illustration "The Cost of Freedom" is pictured below.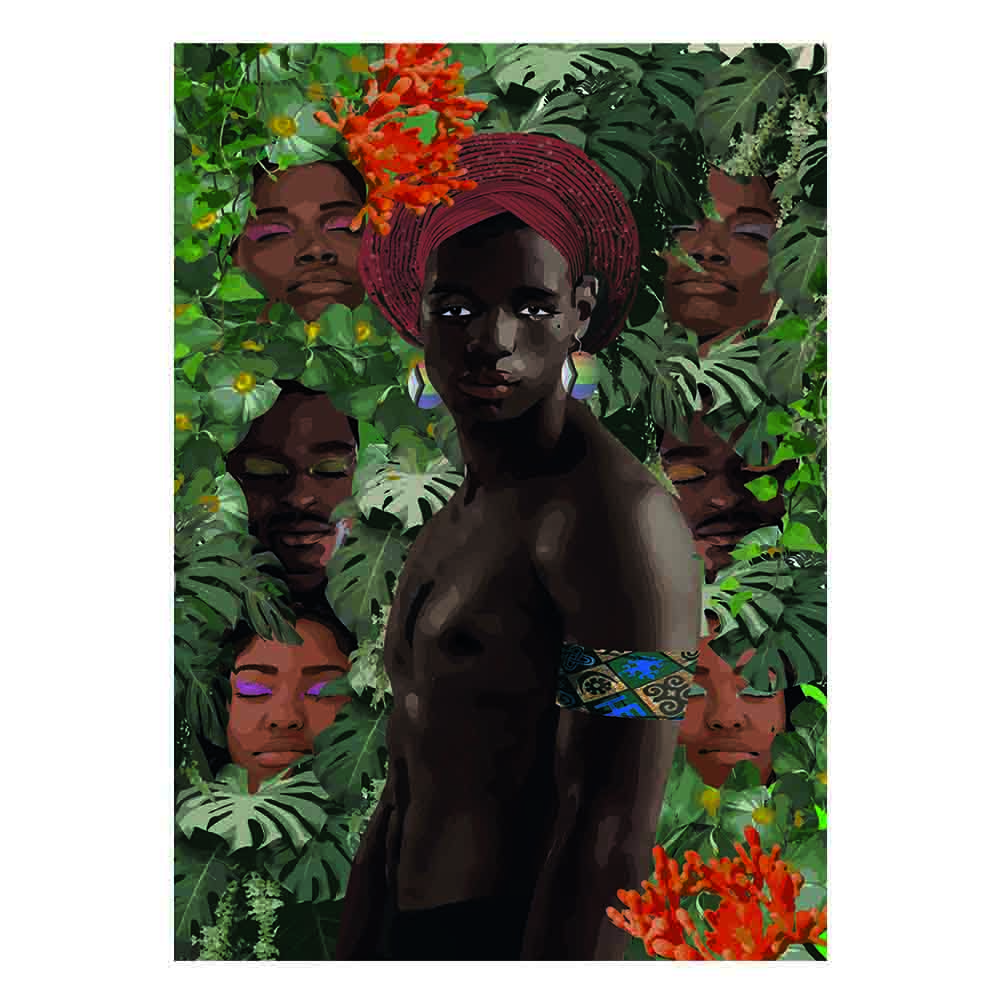 Artwork description
"I created this piece using vectors. This illustration includes leaves, vines, flowers plants to signify growth and rest. The green leaves and nature anchor the Nigerian flag colours. Hidden between the leaves are sleeping/lifeless faces resting in complete comfort, juxtaposing with the bright, colourful eyeshadow. The six people mirror each other creating symmetry and balance within the piece, creating a visually pleasing lay- out that guides the eyes of the viewer. The prominent figure shows a man wearing a traditional Nigerian head wrap, print, light makeup and jewellery. The conventional female headwrap is worn by the male lead challenges the perception of gender-based clothing and garments—the play of femininity dissects the gender social construct through bright colours and expressionism." – Emmanuelle Iroakazi
We spoke with Emmanuelle to discover more about their work and inspiration. Continue reading for the full interview.
What inspired your design?
As a Nigerian, Igbo bisexual woman I've found it it hard to see representation in society. Talking to Nigerian LGBTQ+ community I've met many people who share the same experiences of wanting to celebrate your culture and traditions, but at the same time feeling isolated and receiving hate from others. With multiple legislations in Nigeria prohibiting same sex relationships, marriage and safe space it's difficult to feel seen in your own community. With that, this piece simply shows 'the cost of freedom' and the penalty many LGBTQA Nigerian youth face when coming out.
How does your illustration encapsulate LGBTQIA+ History Month?
This piece encapsulates LGBTQIA+ History Month through the themes of self-expression, challenging gender roles and highlighting the ignorance of black LGBTQIA+ mental health. Delving deep into my Nigerian Heritage, this piece illustrated the intersectionality of my heritage and sexuality. The Nigerian 'Same Sex Marriage Prohibition Bill' authorises long prison sentences for same-sex marriages, the operation and support of gay clubs, LGBT organisations and the public display of same-sex relationships. With my identity fragmented into cultural upbringings and my sexuality, I had realised the privilege of living in a country that permits gay rights. Through this, I was able to uncover people's experiences and interview them on 'the cost of freedom'. With Black individuals constantly battling with race and sexuality, abuse causes a significant impact on mental health.
Do you have any LGBTQIA+ icons who inspire you?
I don't think many LGBTQIA+ icons inspire me, it's usually the people around me. Sometimes I'll go to Soho, Shoreditch or Brighton and just the people I talk to and their stories truly inspire me. I'm not so much of a social butterfly but I really enjoy hearing about people's experiences and understanding them. It's amazing how much we don't know about strangers until we talk to them. So, I'd say people in the community, who are living their truth inspire me the most.
What was your process for creating the design?
My design process was quite different for this piece since I was inspired by collages of textures and nature that is often seen in Nigeria. Starting by making a rough sketch by hand, I then made a list of assets that I wanted to create on illustrator. These included 3 separate plants, 4 people and accessories. The aim was to play around with gender roles and break them through the means of makeup and wrappa that's tradionally worn by women. After all the assets were created I assembled each part like a puzzle piece and layered the assets according to the sketch. Each asset was made by layering each vector with different shades to building dimension and texture – much like tactile collaging.
What projects are you working on right now?
I'm currently working on multiple projects, including a children's book with an independent author about representation and acceptance. I am also exhibiting my work at UAL XHIBIT from the 9th to the 18th June. Finally, I'm working on personal projects to sell sunflower earrings to raise money for cancer research and a podcast at BMC radio.
Where can we find more of your work/do you have anything coming up you'd like to share?
You can find more of my work on my website www.emmanuelle.page and @ emmanuelleiroakazi on Instagram where there is a more personal and insightful look into my creative process.
Shop Emmanuelle's print now!
Emmanuelle's winning illustration has been made into an A4 giclée print and is available to purchase exclusively at not just a shop.