Emily Chin-Sillah is a South London-born and bred illustrator and graphic designer who created Chin Chin Prints during the first lockdown in 2020.  
Her illustrations celebrate local landmarks and the nostalgia that the buildings bring to the communities they sit in, using a concoction of flat design, detailed textures, and a play on vibrant colours.
All of her prints are printed on 100% recycled paper and printed using biomass printers in the UK.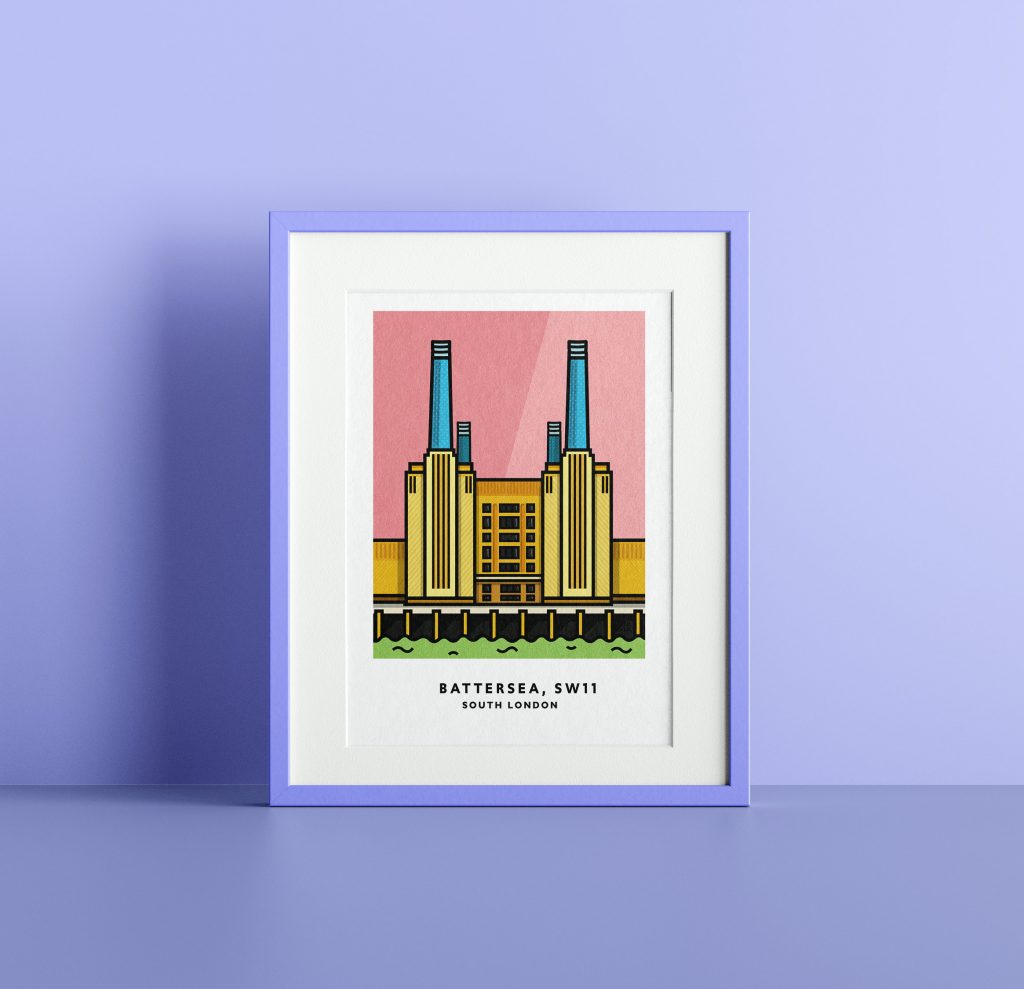 We spoke to Emily about her work and inspiration. Read below what she had to tell us.
What attracted you to your craft?
I have always loved drawing and painting, for as long as I can remember, studying Fine Art up until my A-levels, but took the graphic design route when mapping my career. After 8 years of being a digital designer, mixing illustration in a digital format felt like my happy medium, which I love!  
What does your typical day look like?
I am currently working my notice period after quitting my 9-5 as a product designer, so a typical day at the moment consists of me juggling my day job alongside Chin Chin Prints. I wake up at 7 am, and go for a walk – I have been working from home since March 2020, so I have replaced my morning commute with a lap around my local park! I pack any orders I have outstanding or any urgent admin for the prints – emails, Instagram DMs. At 9 am, my day job starts – I log on and spend the day joining meetings and working through daily design tasks (user flows, wireframing and asset creation). On my lunch breaks, I squeeze in some content creation for Chin Chin Prints or pack orders, if I was not able to do this before 9 am. When 5 pm hits, I officially stop working my day job and begin working on the prints. This could be finishing off a new print design, proofing any designs before sending them off to print or adding new inventory to my website. I am also in the process of developing some of my existing designs into new products, so a lot of my time recently has been spent sourcing manufacturers and getting the designs ready for production (which is super exciting!).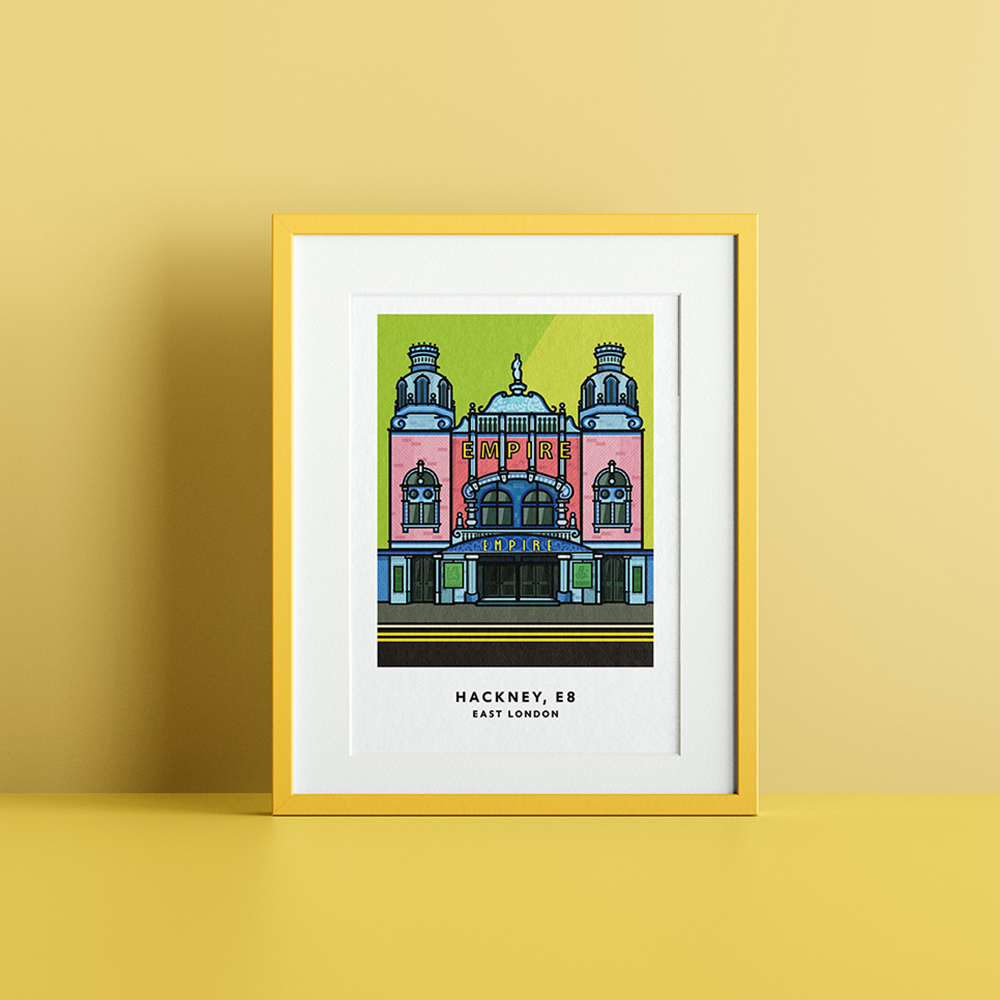 Does your product have an environmental focus?
All of my prints and greetings cards are printed on 100% recycled paper sourced from FSC-certified mills and printed with a biomass printer based in the UK.  
What is the USP (unique selling point) for your products?
A playful spin on how our favourite buildings are depicted. None of the colours I use in my illustrations are true to real life but are still able to capture the essence of the building/location.  
Where do you find/ source your inspiration for designs?
My local community – since launching Chin Chin Prints, I have networked and met so many local people via Instagram and local small business markets. I am always opening up polls with my social media followers to see what locations they would love to see me draw next as well as speaking with local people whilst trading at markets.  
Please can you provide a little more info on how your interest in design started and developed?
I have always naturally steered more towards anything creative throughout my childhood and went on to study Graphic and Media Design at LCC. Initially, I downplayed my work if it was not created with my hands in a traditional sense – pencils, paint, paper etc, however, I think over the years my love for digital has evolved and I am fascinated by the endless possibilities that can be created digitally.  
Do you have any favourite items in the collection?
My Catford print! I grew up and went to school in Lewisham, and would pass the big black cat often on my way to and from school, as an adult the cat is very much reminiscent of my childhood.
How would you summarise your collection in a few sentences?  
My collection consists of local landmarks and the nostalgia that the buildings bring to the communities they sit in, using a concoction of flat design, detailed textures, and a play on vibrant colours. My illustrations are currently available in print format and blank greetings card format.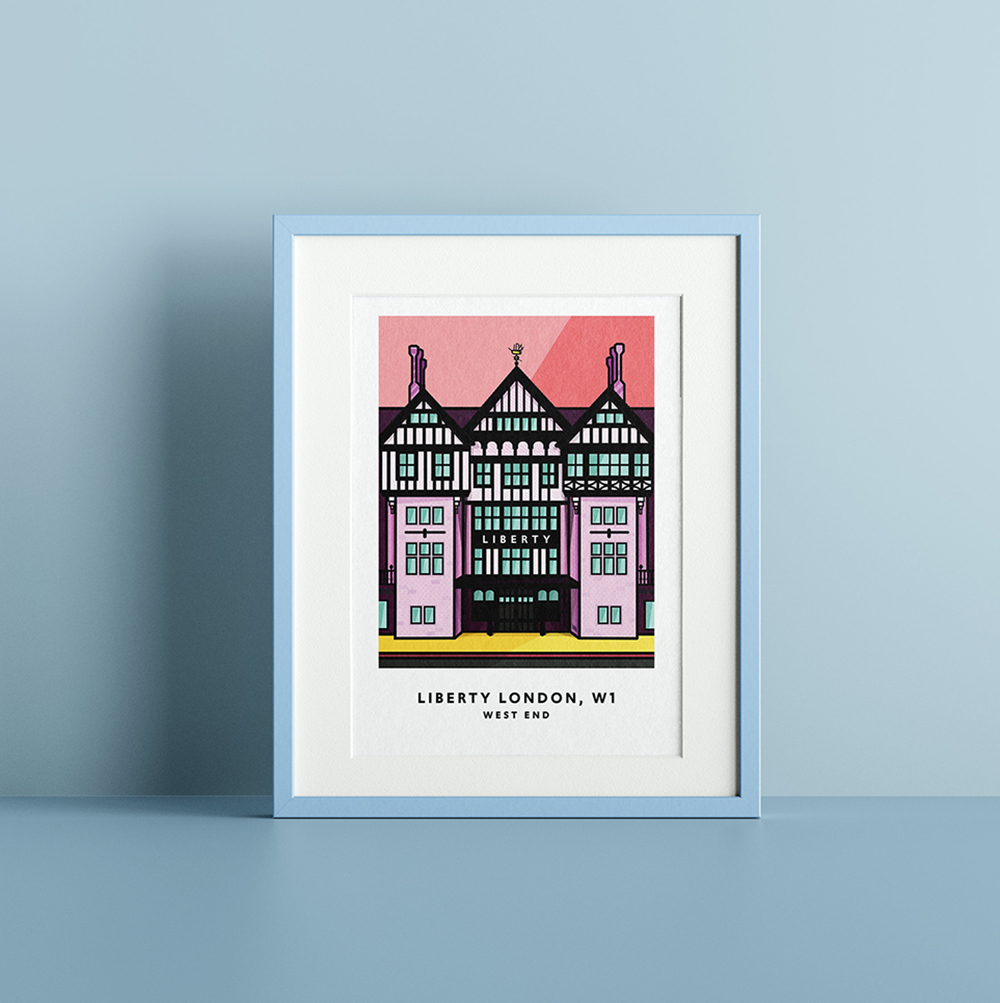 Does your work have a social impact?
Currently, no – however I am working towards a collection that celebrates black British heritage in hopes to raise funds for specific charities that provide resources for Black peopled their mental health.
What are your hopes for the future/ where would you like to take your design career/ collection?
I hope to be able to make Chin Chin prints my full-time job and expand my offering to a wider audience.