Chuchu Illustrations was founded in 2020 by Leire, an illustrator and designer based in London. She is inspired by nature and finds comfort in drawing cute animals and plants, mainly frogs and mushrooms. Her work often involves a sense of playfulness, which she likes sharing with the world, hoping to brighten people's days.
Read below to find out more about Leire's own practice and her inspirations.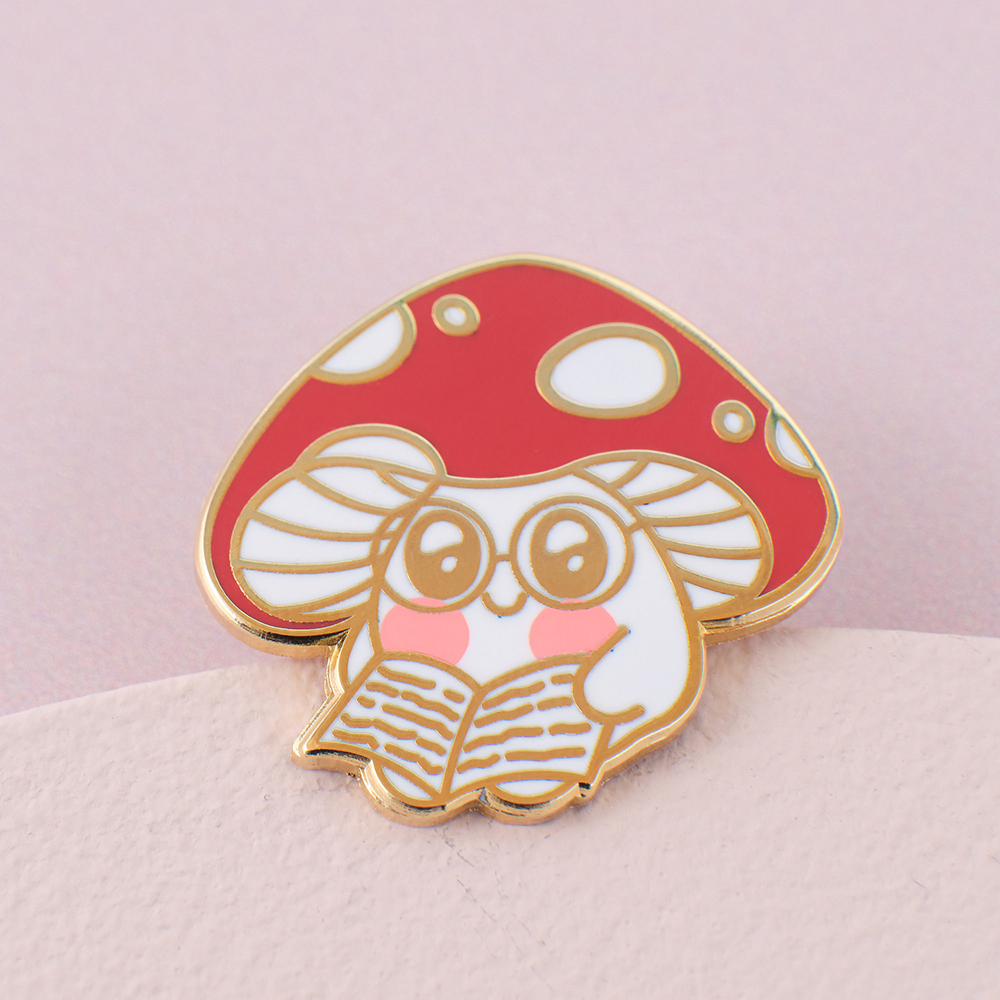 Shroomy Reading Enamel Pin by Chuchu Illustrations
What attracted you to your craft?
I'm most happy drawing and creating; I can't imagine a life not doing what I do. I have always been an artist and an entrepreneur. I find it difficult to explain what in particular draws me to it! It's just my natural state.
What does your typical day look like?
I think it's a blessing and a curse that in this job there is no typical day. In a sense, it means I never get bored, because I am constantly rotating tasks. In another, it means that you never really know what to expect.
However, on any day I usually complete 2-5 of the following tasks: pack orders, design new products, speak to manufacturers, package products, help customers with their orders, create social media content, plan for future releases, and research current trends.
Does your product have an environmental focus?
I have always grown up very conscious of my relationship with the environment. I only source paper from FSC-certified manufacturers. Most of my packaging is recyclable. Currently, I am working on further reducing my carbon footprint by fully eliminating plastic from my business, while also increasing my use of recycled paper.
Seeing as most of my art is inspired by nature, I think it's only fair that I do my best to protect it.
What is the USP (unique selling point) for your products?
Creating a cuter world through nature-inspired, lighthearted illustrations.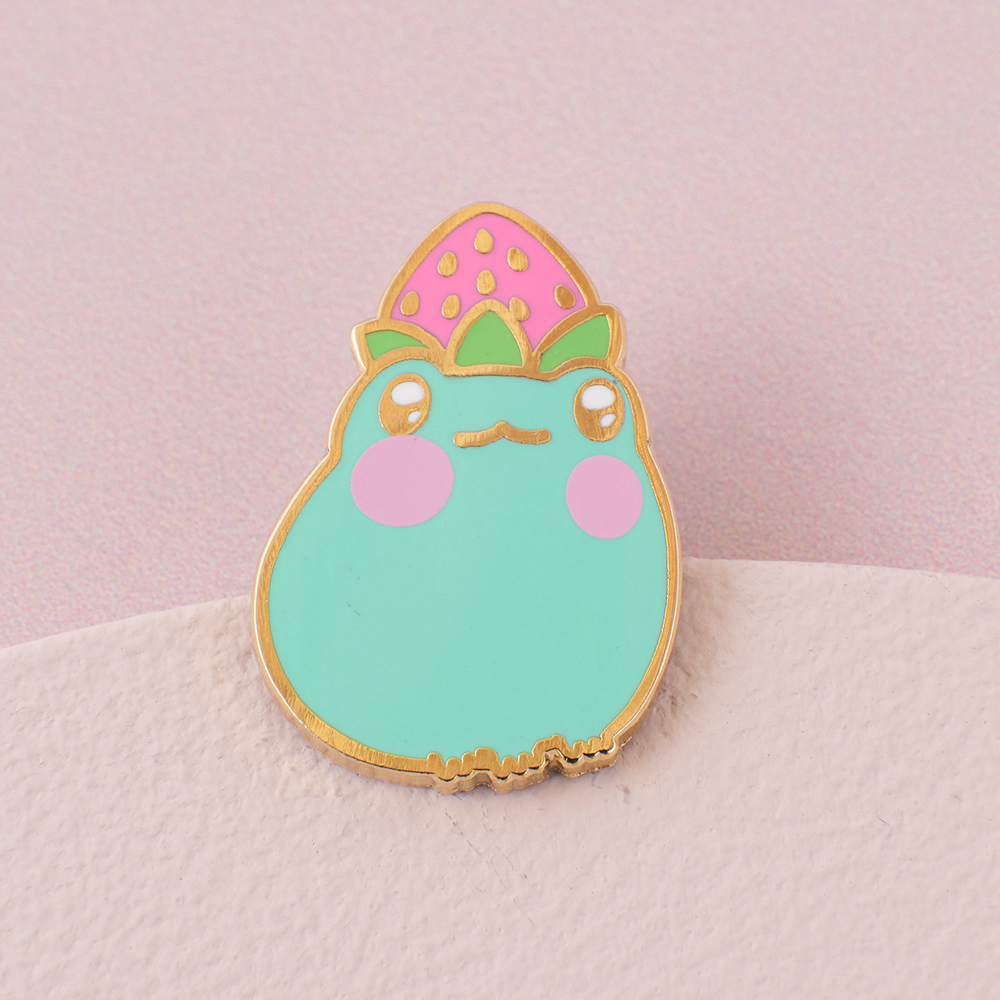 Lily The Frog Enamel Pin by Chuchu Illustrations
Where do you find inspiration for your designs?
A lot of my inspiration has come from the things I loved when I was younger (and still do!). Comics like Doraemon, Moomin; games like Animal Crossing and Pokemon, as well as other companies like Sanrio and Studio Ghibli. If I'm feeling uninspired, I like to spend time outdoors or browse Pinterest.
Please can you provide a little more info on how your interest in design started and developed?
I have always loved art – I think my biggest struggle was picking whether to study design, illustration or fine art for my degree. I ended up choosing fine art because I felt it was a more effective way to communicate my thoughts and feelings. However, while studying I have learnt how to make these feelings known in a more subtle way, which I think is slowly starting to take shape in my illustrations.
I would also say my business is a way to balance the more visually dark and stressful themes of my fine art work, with my illustrations being the opposite, and reminding me not to take myself too seriously.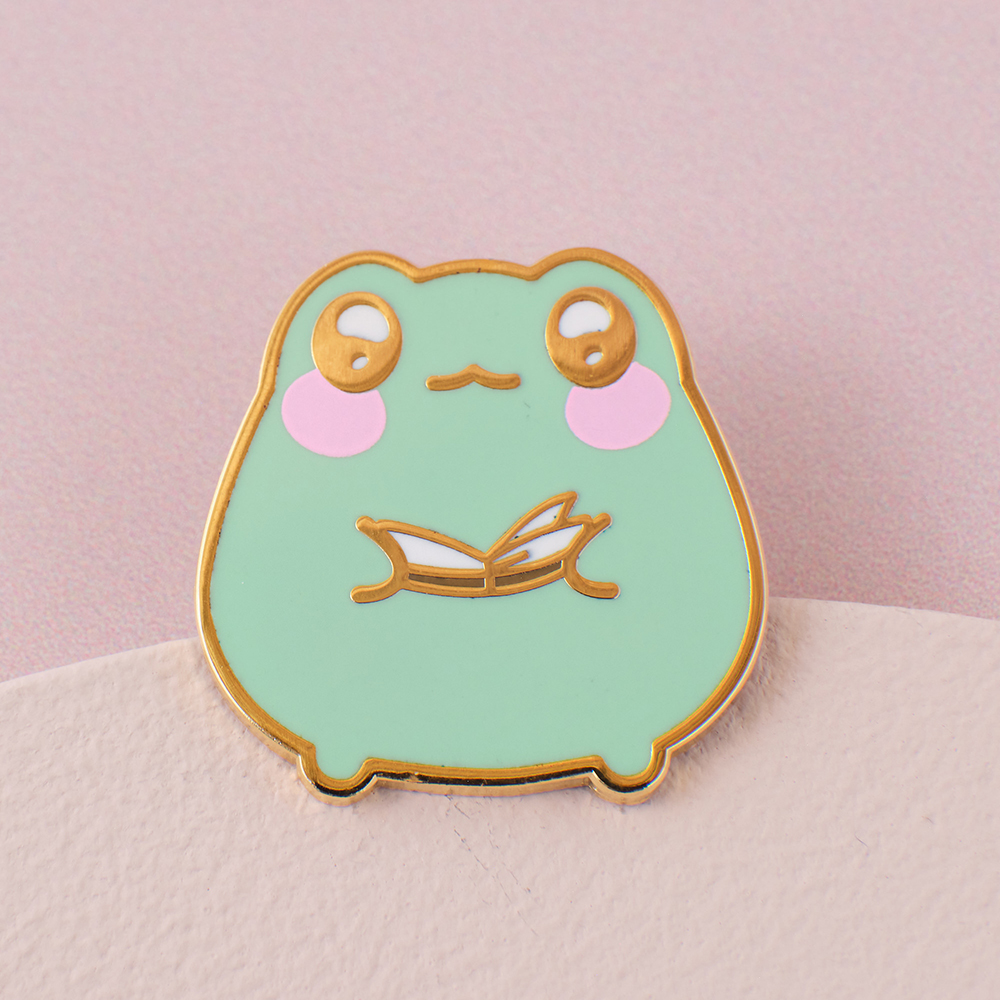 Frog Reading Enamel Pin by Chuchu Illustrations
Do you have any favourite items in the collection?
My favourite item is my newest pin, in which Lily the frog is reading. I made some small changes to her design and tried a different shade of green, which I ended up loving.
How would you summarise your collection in a sentence?
I would describe it as a collection of cute creatures that bring a small reminder of nature and silliness into our mundane, everyday lives.
Does your work have a social impact?
Ideally, my social impact would be to brighten people's days through cute, silly illustrations, while also reminding them of the importance of nature.
What are your hopes for the future? Where would you like to take your design career?
With the confidence I've gained from working with not just a shop, I hope to secure more wholesale orders, giving me time to work on my favourite part of running a business: creating new products. I also want to branch out from frogs and mushrooms, by drawing a larger variety of cute animals and plants.