We have a new range of Risograph printed greetings cards at not just a shop, thanks to the wonderful Kadence from Dear it's Friday. We spoke with Kadence about her craft for our meet the makers series.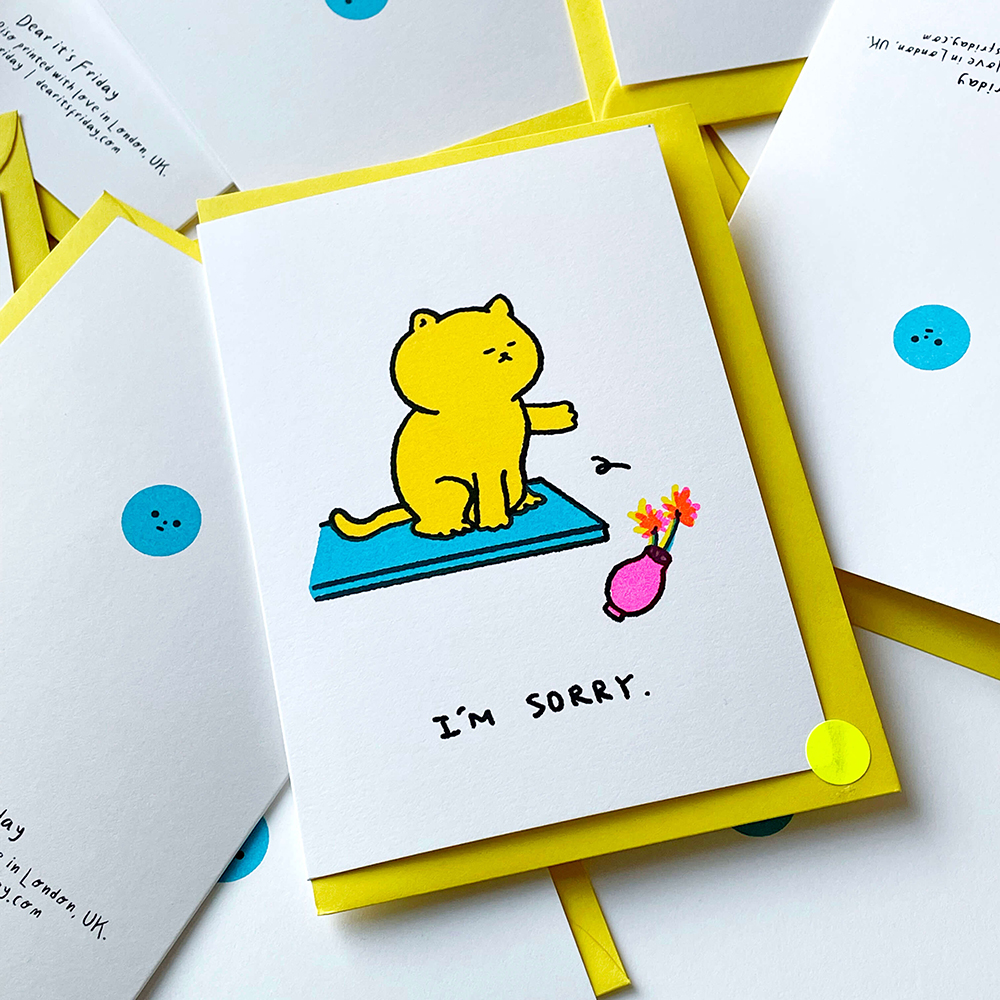 I'm Sorry Greetings Card by Dear it's Friday
1 . What attracted you to your craft?
Dear it's Friday is an ongoing personal project I started two years ago. The intention was simple: I thought life was full of nonsense and sadness already; why not make something to laugh about it? Plus, I was terrible at reading and writing and craved to improve my drawing skills. Thus, I tried to consistently find inspiration in life and turn life's negativity into something humorous or sarcastic through simplistic visual language.
2. What does your typical day look like?
I start my day by hearing my lo-fi music alarm, opening my morning eyes, and seeing my adorable cat beside my face. Then I will take my allergy pills because I'm allergic to cats. That's how much I love my cat. My clients and projects, including commercial graphic designs and illustration commissions, are not only based in London; thus, I primarily work from home. I usually have a very light breakfast with a cup of hand-drip coffee or tea while checking and replying to emails and messages.
I enjoy working from mid-morning to early afternoon; the natural light on my skin makes me feel very cosy and productive (I was raised in sunny coastal cities; hence the sun is crucial for my mood). I love having short breaks between work to play with my cat and stay away from the monitor for a bit. After finishing the day's tasks, I often go to the gym or take a hot bath if I have time. However, I usually reward myself by cooking or baking a dish while watching some shows online and topping it off with a drink at night.
3. Does your product have an environmental focus?
They do. 99% of my products are made with recycled and environmentally friendly materials, for instance, paper, fabric, and ink. I always try to fully minimize waste when I design or craft.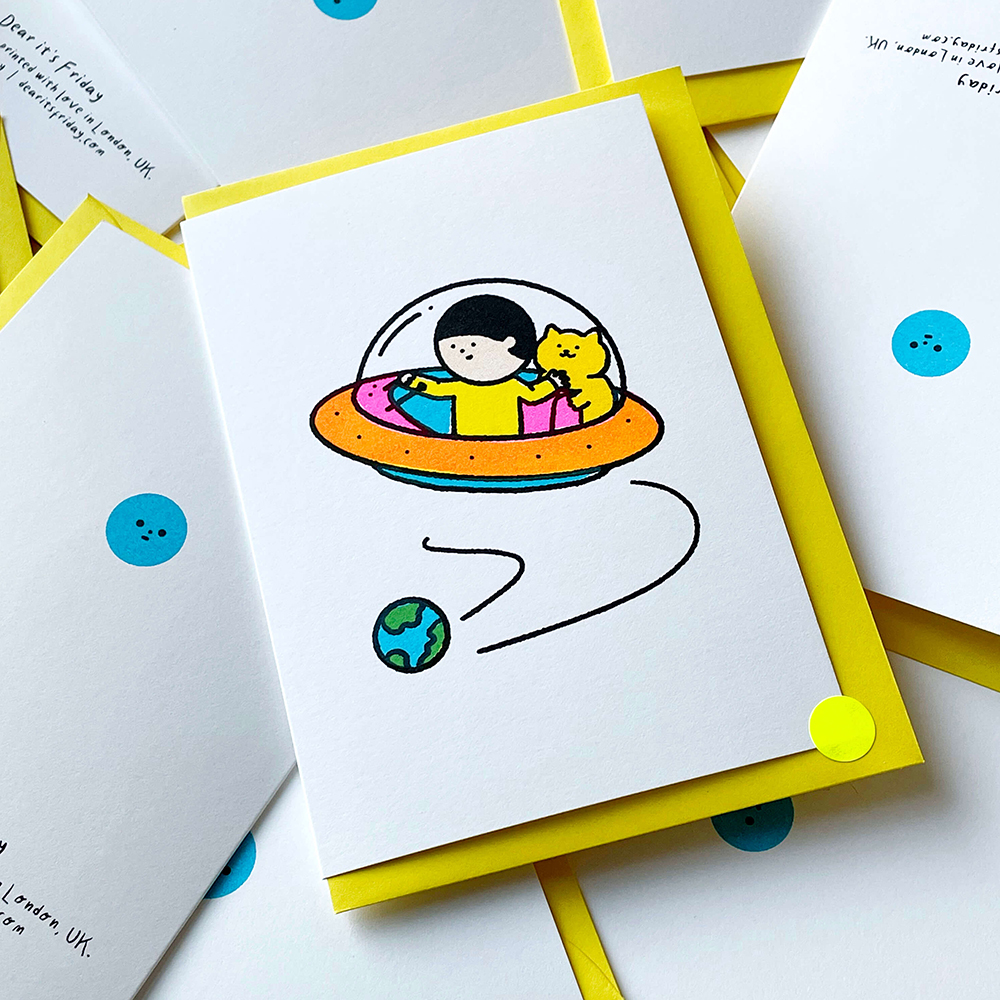 New Venture Greetings Card by Dear it's Friday
4. What is unique selling point of your products?
My work focuses on transforming our shared experiences of life's negativity, mundanity, and complexity into humorous, light-hearted work that provides comfort in its commiseration. You may find a fun and wholesome vibe from my products, and the saturated Risograph will bring vibrancy to your and your friends' lives.
5. Where do you find inspiration for your designs?
My inspiration is mostly from anywhere. My work comes from life, so I rarely sit down and force myself to come up with an idea. My ideas always pop up unpredictably, just like life. For example, it can be triggered by an incident, a conversation, a piece of art, or a minute of social media scrolling. Thus, I have to be aware of collecting my random thoughts constantly.
6. Please can you provide a little more info on how your interest in design started and developed?
To me, humour is one of the essential elements of life. I wanted to express my random thoughts honestly and entertainingly. Looking back, I can see my work started as doodles and gradually became consistent illustrations.
I appreciate the printmaking and communication skills I've learned over the past two years—for example, screen printing prompted me to use colours in my illustration, Risograph encouraged me to change my workflow, and interacting with my audience gave me more ideas to draw. I enjoy people finding comfort and resonance in my work. The experiences comprehensively shaped my work and style.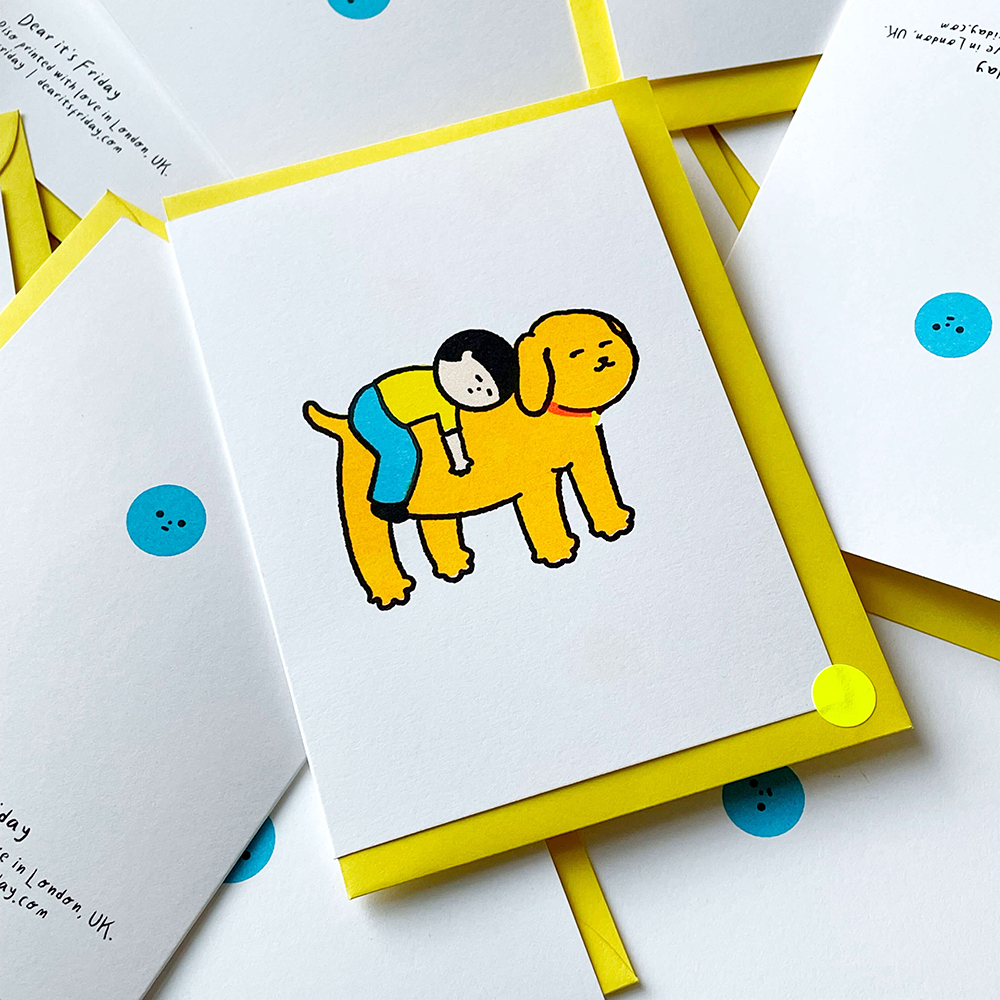 I Got You Greetings Card by Dear it's Friday
7. Do you have any favourite items in the collection?
My favourite in the collection is the Our Next Trip Riso greetings card. The four colours Risograph brought so much vibe and vibrancy to the illustration. Driving is one of my hobbies and travelling with my pet is my dream. Plus, who doesn't enjoy taking a lovely trip in this challenging era?
8. How would you summarise your collection in a few sentences?
I hope this wholesome collection is like a gentle touch on your and your friend's hearts. It provides a channel for you and someone to memorialise a moment in your fabulous life.
9. Does your work have a social impact?
I'm not sure I should be the one defining if my work has a social impact. I would leave it to time or the public to decide. However, I have been posting on Instagram regularly and interacting with my audience as much as possible. It isn't only because of wanting to make a social impact; I prefer to connect people with my work.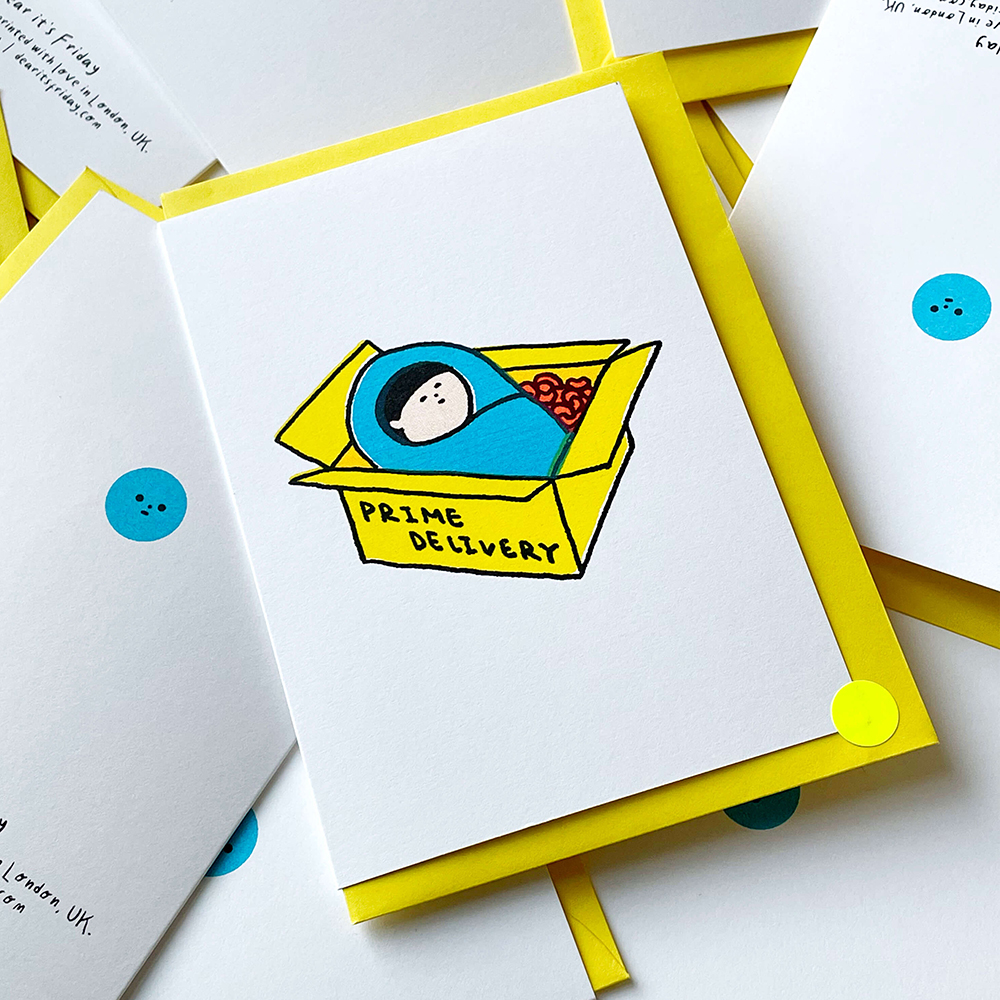 Congrats Baby Greetings Card by Dear it's Friday
10. What are your hopes for the future?
I have been working on illustration prints, books, and cards; I hope to explore more possibilities in different mediums and fields. For example, producing character figures, designing window displays, and collaborating with artists or brands.
11. Any other thoughts/comments you want to add..
My Instagram: https://www.instagram.com/dearitsfriday/
My website: https://dearitsfriday.com/dif-shop/