Laura Jones is an illustrator inspired by the music that drew her to London twenty years ago. Her representations of women in drum & bass lend a voice to support visibility in a scene where gender parity on event line-ups and record label rosters is being fought for.  
Still London-based, her prints celebrate UK drum & bass culture in bold street art colours. Sustainably produced, they are printed on recycled paper stocks. Each features iconic rave motifs that even casual listeners of electronic music will recognise.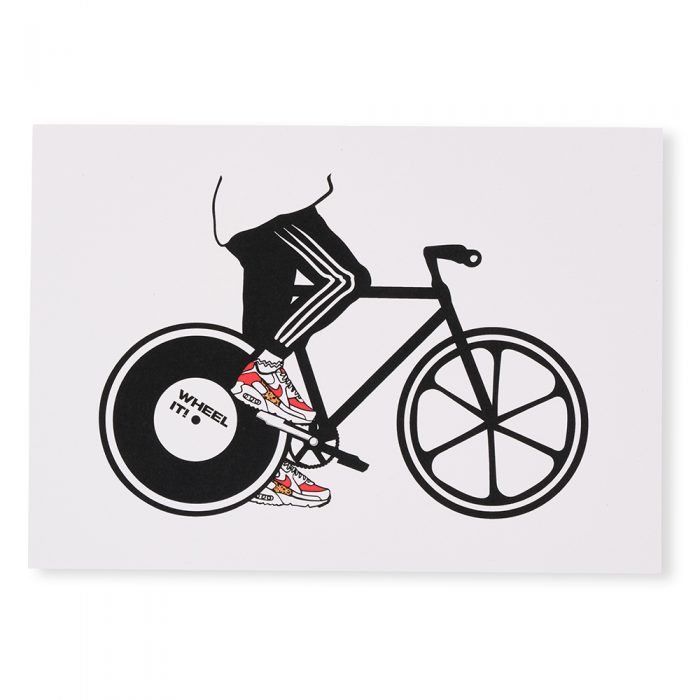 We spoke to Laura about her work and inspiration. Read below what she had to tell us.
What attracted you to your craft?
I was attracted to illustration because of the way you are able to convey a message, or a feeling, within an assembly of motifs or even within one line of your pen. I've always been drawn to street art for that reason, where artists only have a short time or restricted space to make their mark and say what they want to say, whether it be a social commentary or a way of brightening up a plain wall.
What does your typical day look like?
When I sit down to illustrate on my iPad I'll be listening to new drum & bass playlists or listening back to recent radio shows. I might look to my shelves of books on rave culture if I need a new typography placement and need some inspiration from a flyer, but I'm keen for my illustrations to not rely on nostalgia, although there is an element of that in my work. An idea might have come to me when I've been out, usually a phrase that I then illustrate around, and I use mobile apps like Adobe Fresco to save sketches that I then can come back to later. Once I'm happy with how the drawing is looking I'll import it into Adobe Illustrator to be able to work as a vector, meaning I can easily scale up for prints or down for stickers.  
Does your product have an environmental focus?
Anything that I am creating a physical product from, I want to do in a sustainable way and it is important that with my packaging I'm not creating more waste in the world. We're lucky that it is now easier than ever to find environmentally-friendly options without sacrificing quality and make choices close to home to lessen our carbon footprint. I print in the UK on high-quality paper stock made from 100% genuine de-inked post-consumer waste. The card I use to back my prints and my paper stickers are recycled, and I use UK-made renewable cornstarch bags that you can compost at home.    
What is the unique selling point for your products? 
I draw with a unique voice celebrating the women in the drum & bass music scene that I love, which has its foundations in the working-class raves of the 90s, and with the same energy that fashion illustrators like Rene Grau and Jason Brooke's treated their beautiful champagne-sipping socialites, but were a world away from my own London nights out that inspire me. 
Where do you find inspiration for your designs? 
When I began this as a lockdown project, it was from a place of missing the clubs, the music festivals, and the people that I would see out. So I was looking back, using my own memories of nights out and my favourite tracks, to try and document those times. That's how these illustrations on my first prints came about. But even though the clubs shut, there was this outpouring of creativity with new artists coming through in the drum & bass scene, and many of them had more diverse voices in a traditionally male-dominated area of the industry. So a positive shift was happening that was building on the foundations of the marginalised women who were there as originators of the music. It's important to me that that continues to be my inspiration, so this Summer has been about getting out there, listening to the music and artists at festivals, and experiencing everything again, to inspire my next set of prints.  
How did your interest in design start and develop? 
Making an impression on me when I was young were the women in the art of René Gruau, and Jason Brooks who looked like they were having so much fun – but their worlds of sipping champagne on the pages of my mum's vintage Vogue magazines, and chic Ibiza clubbers on the pages of the Mixmags that were strewn on 14-year-old me's bedroom floor, were like different planets to mine. The capital's clubs were a constant source of creative inspiration to me as a student at London College of Fashion, and so everything I did had elements of music and street culture.
Do you have any favourite items in the collection?
It's hard to pick a favourite item for the collection as each illustration I put a lot of me into, but if I had to pick it would be my "When She Was Good" print. The illustration took many forms before I finally settled on this one, as it was trial and error which fit the mood, the typography and the print size best. But this is where it all started really – I got such a positive response to it when I shared it on Instagram. It connected with a lot of artists on there and made me feel like this was something worthwhile pursuing.  
How would you summarise your collection in a few words? 
I create jungle and drum & bass music-inspired art that stands for diversity.  
Does your work have a social impact?
I hope that my representations of women in drum & bass can lend a voice to support better visibility in a scene where gender parity on event line-ups and record label rosters is being fought for and called out. 
What are your hopes for the future/ where would you like to take your design career/ collection?
I hope that as many people as possible who love music as much as me can enjoy these prints in their homes.