Fredrik Link is a print designer who finds inspiration in the chaos of everyday life. His designs celebrate the beauty in imperfection and embrace the notion that true art lies in the unexpected. Fredrik has a keen eye for detail and loves exploring new techniques. His work has a playful aesthetic. He is a firm believer that art should reflect the world around us, and this is reflected in his designs. Fredrik is passionate about creating work that brings people together.
Based in London, he believes that art has the power to unite communities and foster a sense of connection and belonging. Through his designs and community projects, he strives to create a more inclusive and compassionate world.
Read below to find out more about Fredrik's own practice and his inspirations.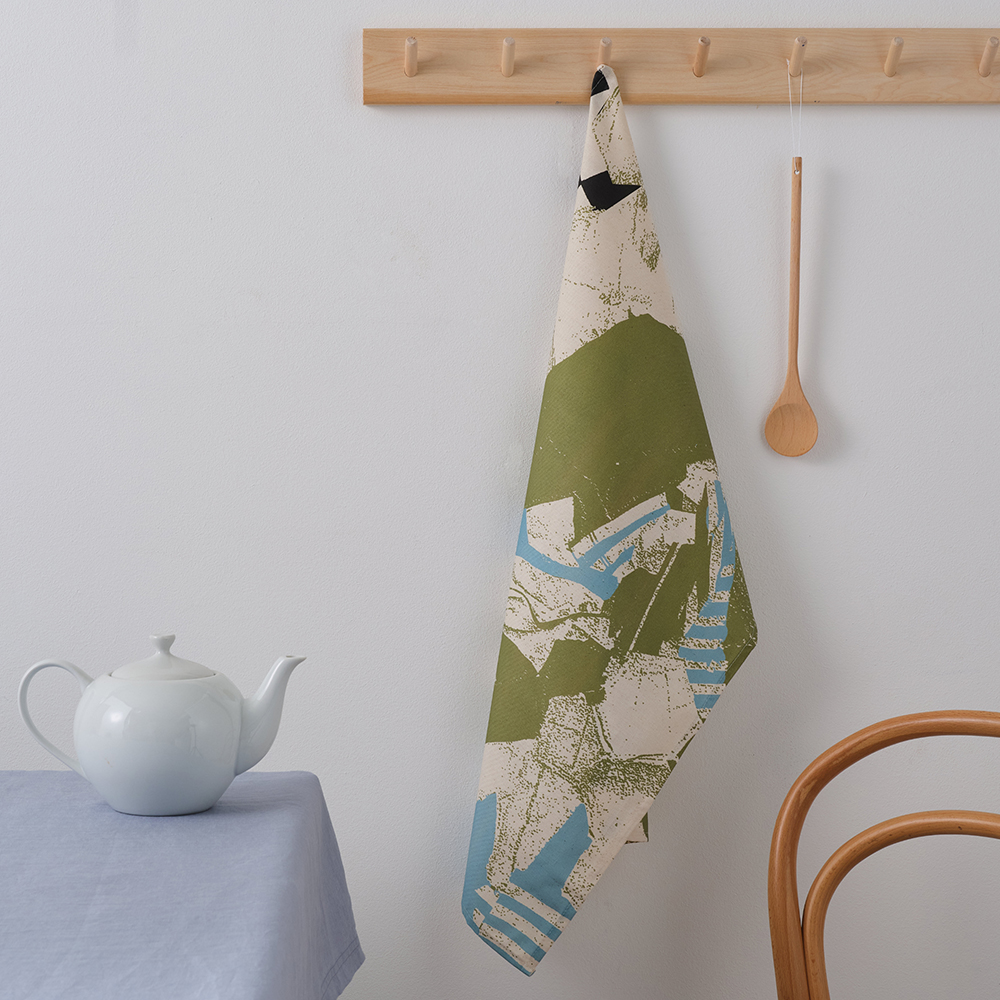 Organic Cotton Dirty Washing Tea Towel in Olive and Blue by Fredrik Link
What attracted you to your craft?
I was first attracted to print design because I enjoyed collaging as a child. I enjoy the creative expression and flexibility print design gives and the endless opportunities to explore different design techniques. Collage combined with print design allows me to tell a story through visuals and use my design skills to evoke emotions and communicate a message effectively. I find my practice helps me find serenity within the chaos of the everyday.
What does your typical day look like?
A typical day starts with flossing my teeth, before catching up on Eastenders and making toast. I live with five other textile students, so there's alway something going on in the flat. Whilst travelling into uni on the bus, I like to watch the world go by. I enjoy scrolling through old magazines and collaging imagery together, watering my plants and having a beer with friends at the end of the day.
Does your product have an environmental focus?
The organic cotton is grown without the use of harmful chemicals and pesticides. The 'Dirty Washing' design is a print of a collage. The design raises awareness about the impact of consumer behaviour, as it aims on reframing the idea of waste products as dirt and instead highlights their beauty.
They can also be used as a tool for education promoting a more environmentally conscious approach to laundry practices. The longevity of the towel is designed to be used and loved for years to come, reducing the need to purchase new towels and hopefully reducing waste.
What is the USP (unique selling point) for your products?
The unique selling point of my Dirty Washing tea towels is that they provide a visually engaging and thought-provoking way to promote sustainable living and environmental awareness. The design of the tea towels is unique and eye-catching, featuring a collage of dirty laundry that can serve as a conversation starter and a reminder of the impact of consumer behaviour on the environment.
Where do you find your inspiration for designs?
I find inspiration within the chaos of the everyday. I find this a powerful source of creativity. By observing the world around me I can find beauty in unexpected places. Chaos can be messy and imperfect, but it can also be beautiful in its own way. This helps me to create designs that are authentic and memorable. Even within chaos, there are patterns and rhythms that emerge. I look mainly at graphic references to communicate my ideas as I find this an effective way to develop and refine my ideas.
Please can you provide a little more info on how your interest in design started and
developed?
My interest in design started from a young age. I loved the TV series Ugly Betty which inspired me to make layouts for my own little magazine called Zhivago, which I then gave to my friends. From an early age, I've been going to exhibitions and galleries and life drawing classes.
Do you have any favourite items in the collection?
My favourite is the black and white Dirty Washing tea towel. I find this image striking and reminds me of the authenticity of my dirty laundry.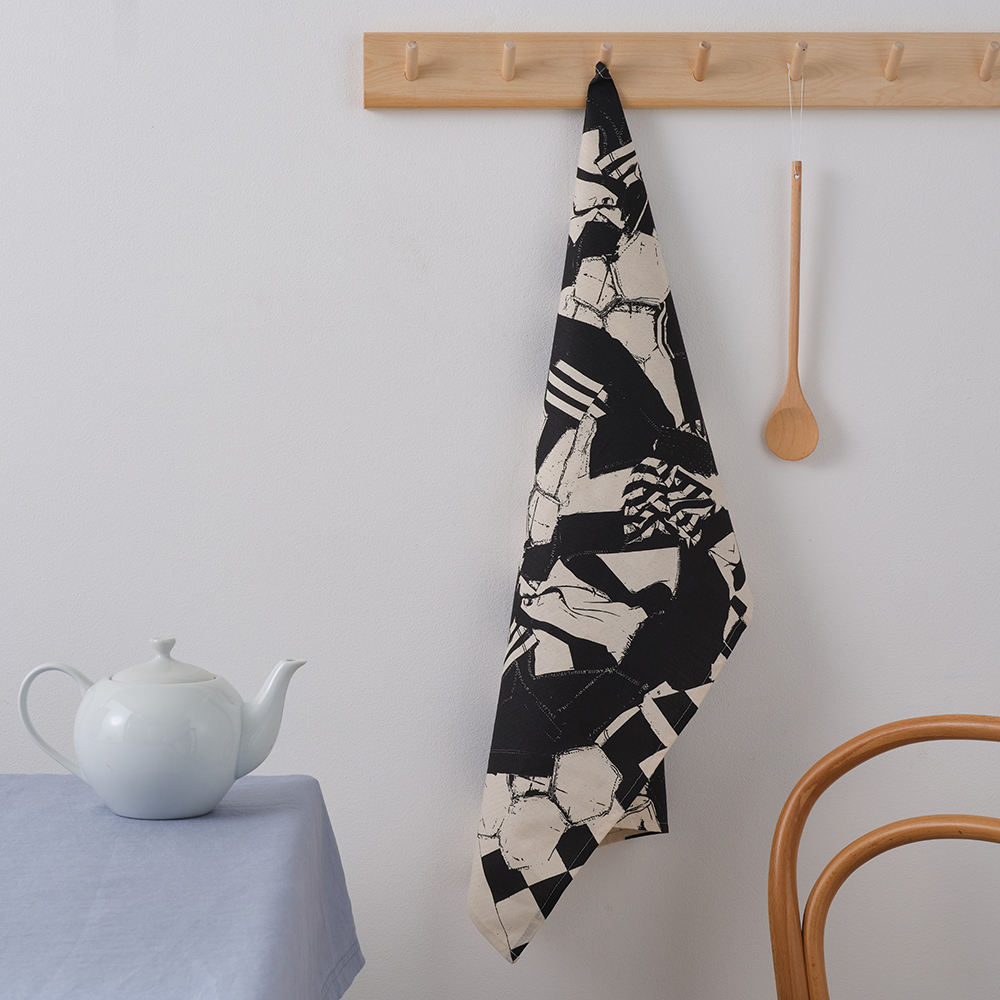 Organic Cotton Dirty Washing Tea Towel in Black and White by Fredrik Link
How would you summarise your products in a few sentences?
This organic tea towel features a unique design inspired by dirty washing. Each tea towel showcases a collage of textures and patterns that evoke the feeling of everyday laundry. The collection is made from sustainably sourced organic materials, with a focus on reducing waste and promoting the circular economy. Each tea towel is designed to spark conversation and encourage sustainable living
practices, making them a meaningful and eye-catching addition to any home or workspace.
Does your work have a social impact?
The production of the tea towels supports local communities in the UK. The collection is produced in the UK, by a small-scale production company called Stuart Morris which supports local economies and provides job opportunities.
What are your hopes for the future? where would you like to take your design
career?
I am passionate about exploring the beauty in imperfection and promoting sustainable living through my unique "dirty" aesthetic. I plan to expand my range of products to include other items, all while continuing to showcase the same theme. Ultimately, I aim to open my own print studio, where I can bring my vision to life and create community projects that encourage people to embrace their imperfections and come together through the transformative power of art.