Founded by Sahiba Saluja in 2021, Happy Rooms is a fun and quirky homeware brand. Sahiba uses Jesmonite, an eco-friendly and non-toxic composite material to make her core collection of tableware and home accessories. Her products are playful yet functional and add a pop of colour to any room. Everything is handmade by Sahiba in her home studio.
Stackable Candle Holders £15 and Marbled Placemats £22
We chatted with founder Sahiba to learn more about Happy Rooms. Read below to see what we discovered…
What attracted you to your craft?
I worked as a visual merchandiser when I moved to London 10 years ago and loved making props for window and store displays. I've always enjoyed creating things with my hands and when I discovered Jesmonite, I couldn't stop experimenting and was awed by the possibilities of this material. Finally, after receiving a great response from friends and family, I decided to sell my work to independent stores and start a small business.
What do you enjoy doing when you are not working?
Exploring new restaurants and food, going on long walks with my husband and 5 year old.
Does your product have an environmental focus/ does it support the circular economy?
My core collection of homeware is made of Jesmonite. Jesmonite is an eco-friendly and no-waste material. Therefore, no harmful or toxic chemicals are produced during the creation process and all the leftover and damaged pieces can be re-used to make new products.
What is the USP (unique selling point) for your products?
Our products are fun yet functional and no two products will ever be the same. Each piece is unique andversatile. Most of the pieces in my collection can be used for multiple purposes. For example, the incense tray can be used on a dinner table to store salt & pepper shakers or on a dresser for hairpins and jewellery.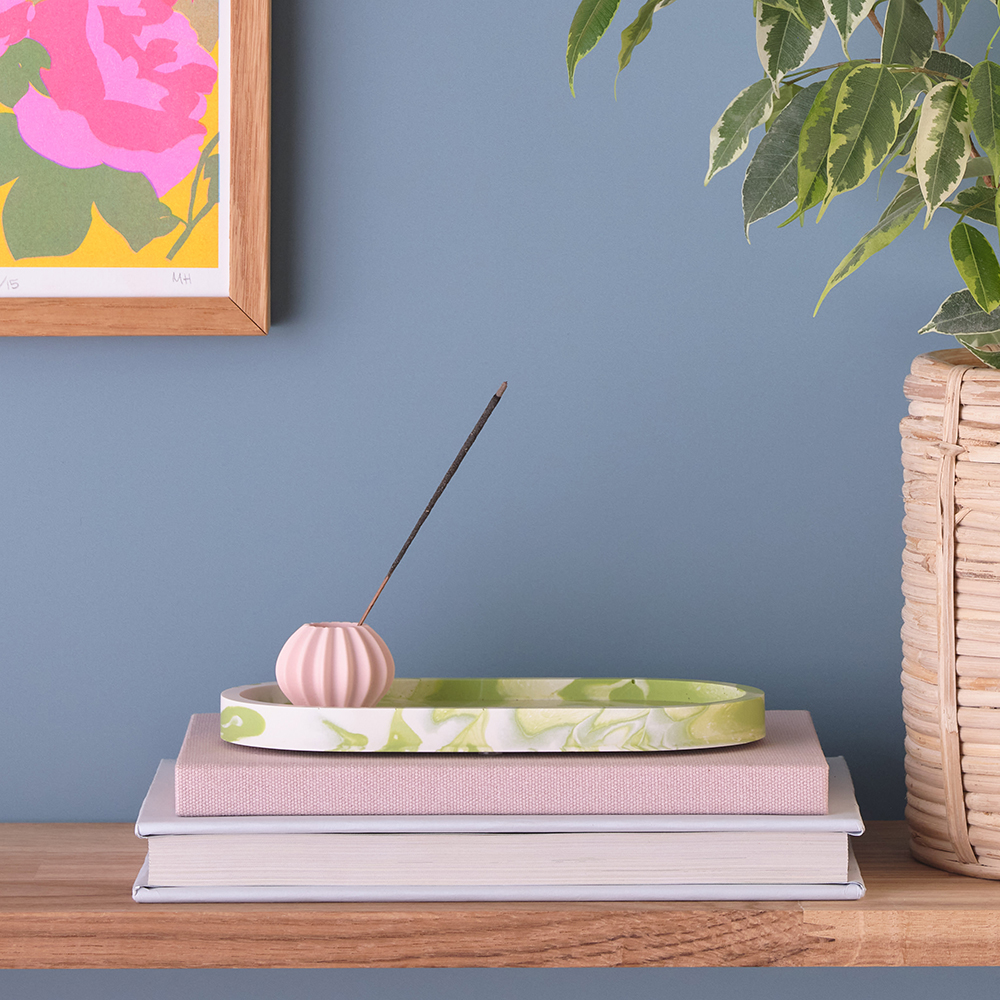 Where do you find/ source your inspiration for designs?
I follow a lot of home/renovation accounts on social media for colour inspiration. For product design, I am always taking cues from my surroundings-noticing different shapes that I can incorporate in my new products.
Do you have any favourite items in the collection?
My candle holders are my best selling and most fun item.
What are your hopes for the future/ where would you like to take your design career/ collection?
I plan to expand my homeware collection and introduce handmade linen ware including table napkins, runners and cushion covers. They will all have the same fun and colourful ethos as my Jesmonite range.