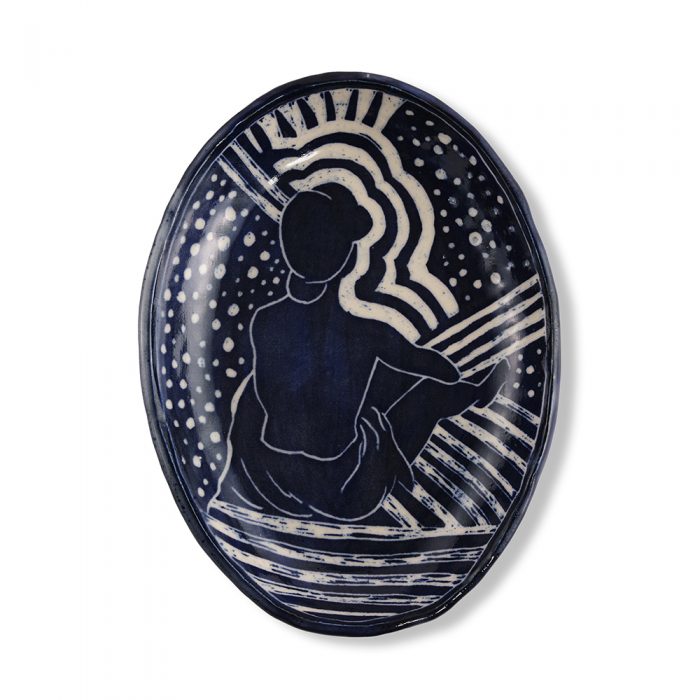 Jane Gorvett is a painter/printmaker/ceramist based in South London. Her ceramics reflect her everyday life. Jane maps her experiences through line work, slips and underglazes. By drawing into the surface, Jane builds up textures to reflect the different landscapes we find within our lives.
Each piece is handmade and vary slightly in size and shape, giving each their own character.
We spoke to Jane about her work and inspiration. Read below what she had to tell us.
What attracted you to your craft?
Painting and printmaking have been my main focus until I recently discovered clay. I have spent the last few years working with this versatile medium. I represent a sense of place through form, shape, colour and mark making.
What does your typical day look like?
A swim first thing clears my head! I am then ready to tackle the day. This could be drawing, painting or working with clay, research is also an important part of my creative process. An initial position is useful as a stimulus for further development. Research moves ideas forward and can lead to other things other than what is searched for, expanding ideas – seeing things in new ways.
Does your product have an environmental focus?  
I soak down any excess clay. This can then be reused.   
What is the USP for your product?
Every piece is hand-crafted and created individually, it may vary slightly in colour and size. Each piece has its own individual character and evolves in its own unique way.
Where do you find your inspiration for designs?   
I am inspired by the natural world and the transient state of nature, the sense of surface, its richness and depth. I deal with elements connecting movement and change in the place we live, and I look at the parallels between what we see around us and try to convey a response.
Please can you provide a little info on how your interest in design started and developed?
My initial training was in graphic design. The idea of seeing things in new ways and managing a transformation. The elements of background and foreground, figure and surround, the image develops, the disparate elements forming a coherent design through line.
Do you have any favourite items in the collection?
I am drawn to the swimmers as a reflection of my own existence. The figure looking out was created during lockdown. One was bought by a medic, who said it reminded her of the long exhausting days and the strength that she needed to get through.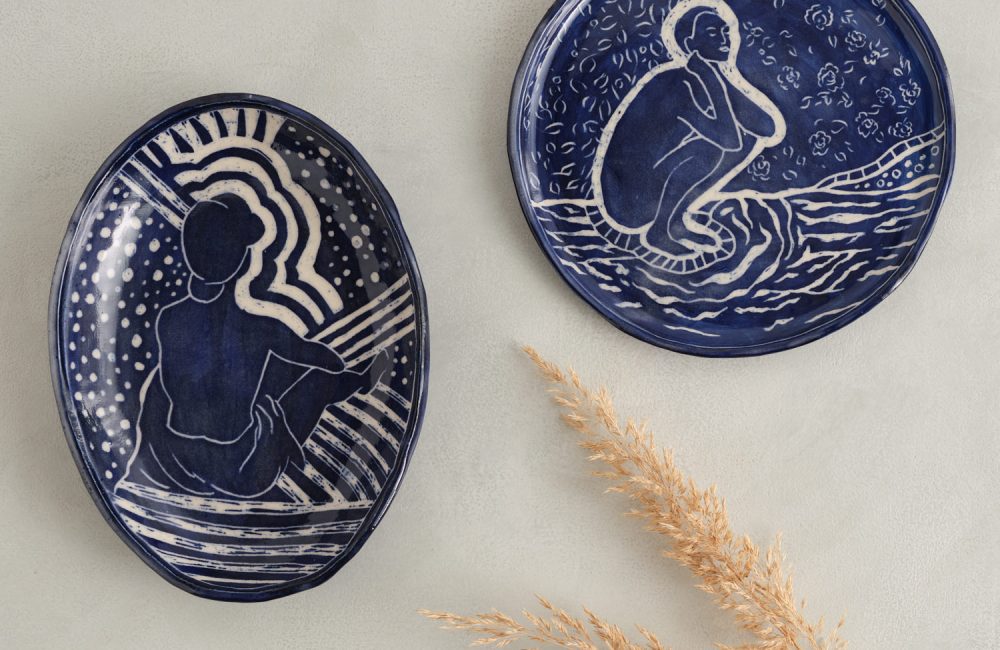 How would you summarise your collection in a few sentences?  
My work reflects my everyday life, these pieces start with a line mapping my experiences, it is a similar process to drypoint etching, cutting into the surface, each mark taking on the energy and force with which it is drawn.
Does your work have a social impact?
If the role of the artist in society is to reflect, I hope these pieces embody that feeling and leave a space between for the viewer to reflect, whether it is in the present or future.
What are your hopes for the future? 
I would like to collaborate and perhaps make larger pieces.