Meet jewellery and surface pattern designer Kam Nasir, the founder of Kam Creates. Designed and made in London in small batches, Kam makes fun jewellery using a mix of acrylic and bespoke glittering wood that shines like no other. Punchy patterns and bright colours can be found throughout Kam's creations and are inspired by shapes and feelings collected through her travels.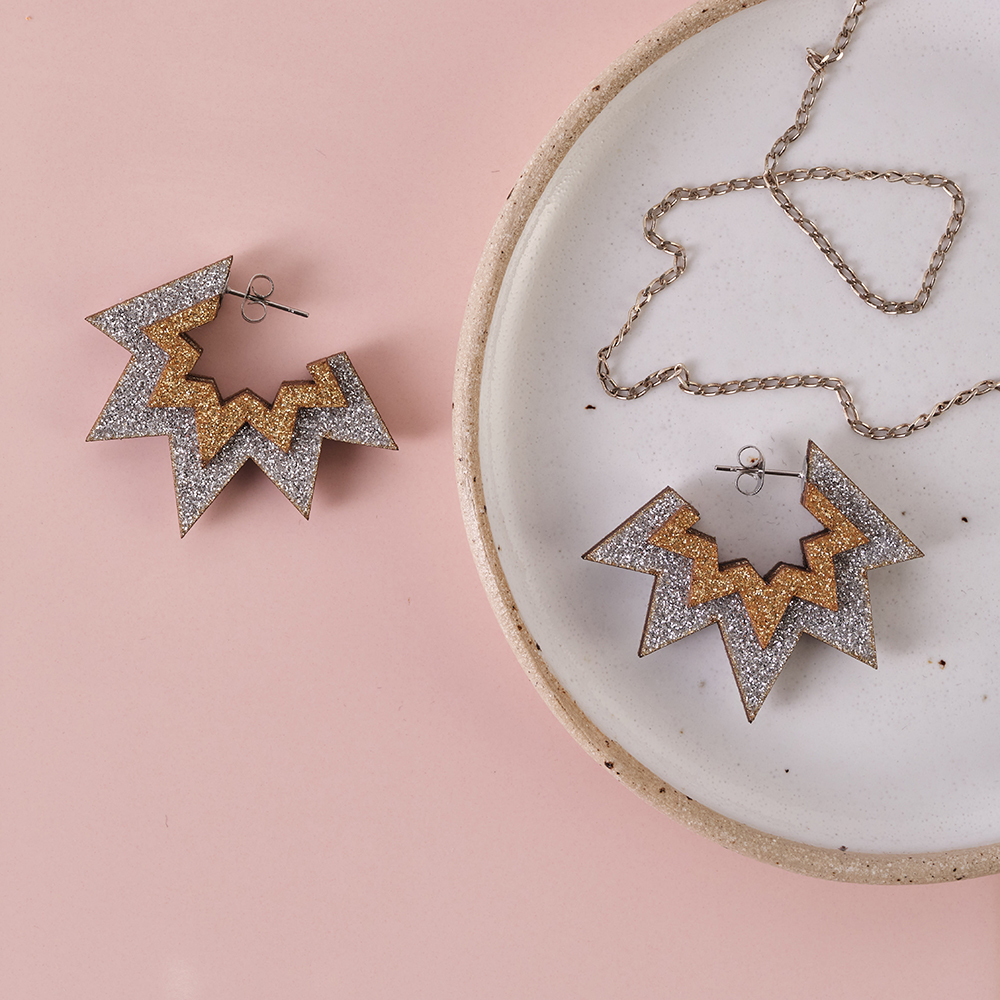 Silver and Gold Bang Bang Hoop Earrings £40
We spoke with Kam about her work creating playful and joyful jewellery. Read what she had to tell us below.
What attracted you to your craft?
One of my favourite TV shows as a child was Art Attack. I loved watching cool things being made from nothing. I was lucky to always have art and craft supplies around at home provided by my mum which encouraged and this sparked my creativity from a young age. 
What does your typical day look like?  
I'm quite intense when it comes to working and like to get into a solid flow so I plan my days and block things together eg. Laser cutting day, making day, admin day, photography etc. Every day is different!
When you're not working / studying what do you enjoy doing?   
I love relaxing and recharging, sometimes at home or sometimes away, going for a drive and being somewhere new, in nature, a new town, anywhere! I'm easily amused. 
Does your jewellery have an environmental focus/does it support the circular economy?
 I have been keeping all of my offcut acrylic sheets and plan to remelt them into new sheets to laser cut and make more jewellery with. I have yet to melt my first piece but it is in my plans!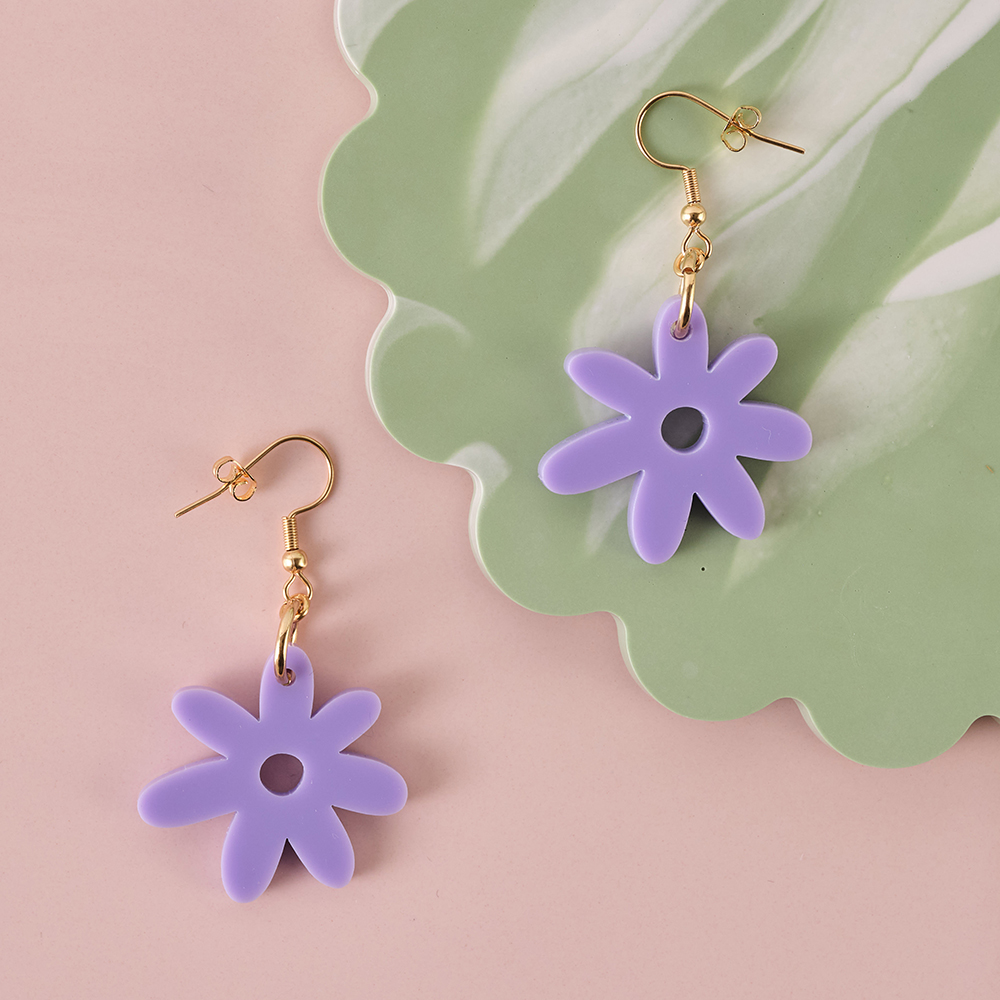 Flower Power Single Drop Earring – Taro £15
 What is the USP (unique selling point) for your products?
Striking shapes and unusual designs. I also have created a unique glittering wood which shines like no other making my jewellery unique and special.
Where do you find / source your inspiration for designs? 
Shapes, colours and feelings I gain through travels and every day life. I love Japan and their unique DIY fashion style. I also love the vibrancy of Mexico, its a place that embraces colour. They both have a strong influence on my designs.
Please can you provide a little more info on how your interest in design started and developed?  
 It has always stuck with me since a young age, art being my favourite class. I went on to study a BTEC in art and design which led me on to graphics at LCC, and then FDA surface design. I love using my hands to create but I'm also alright on the digital side too so I like to find a balance and try to include both skills.
Do you have any favourite items in the collection?
It depends my mood. Right now, I love wearing the flower power hook earrings but I do also love the bang bang drop studs in silver.
How would you summarise your collection in a few sentences, words? 
Playful jewellery to make you feel magical!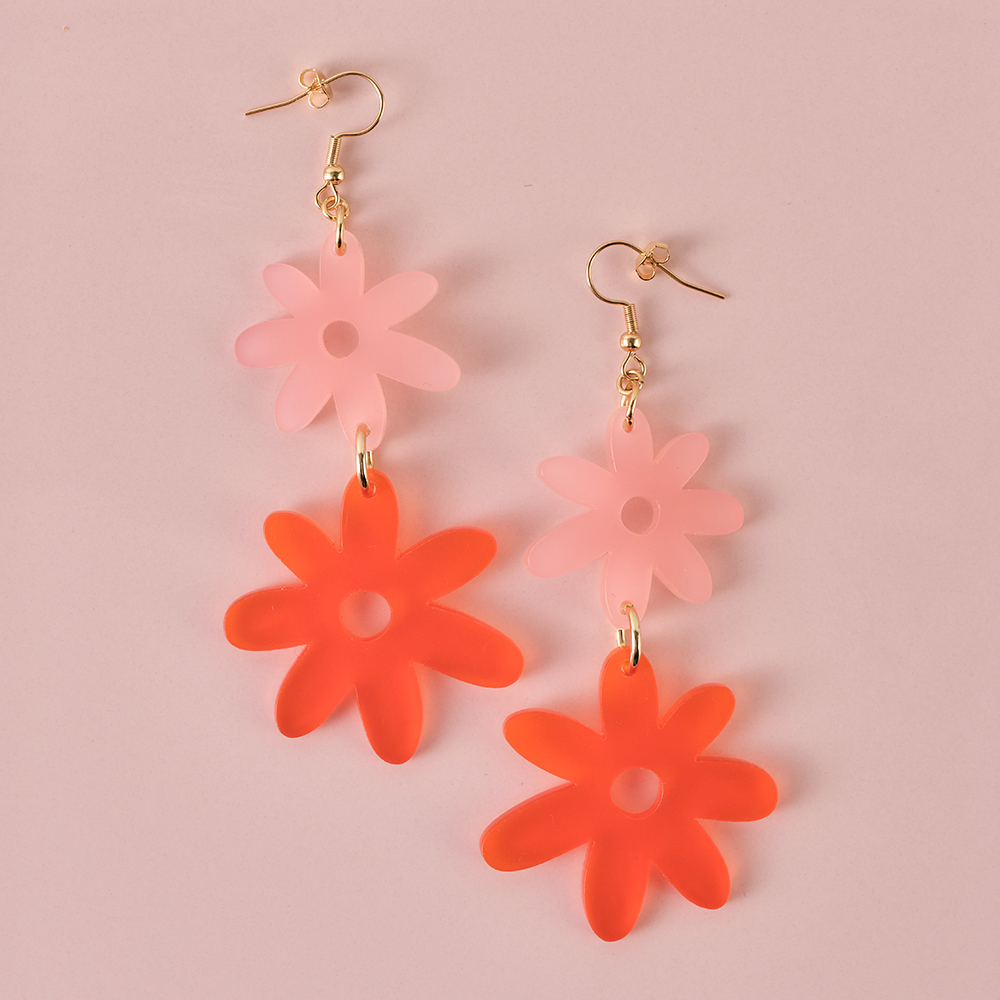 Flower Power Double Earrings in Sunset £25
Does your work have a social impact?
It makes people feel uplifted and confident. An instant mood booster!
What are your hopes for the future / where would you like to take your design career / collection?  
I would love to design bespoke pieces for musicians, maybe a music video or costume jewellery for tour. I would also love to be stocked internationally, Japan please, fingers crossed!