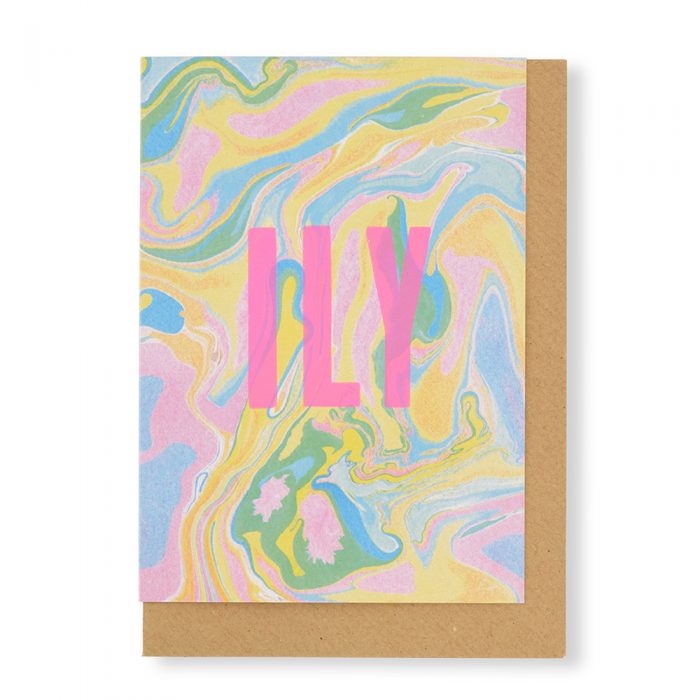 Michelle is a London-based graphic designer and the founder of Nice & Graphic. Originally from New York, she moved to the UK 10 years ago after falling in love with London and letterpress printing.
She founded Nice & Graphic to pursue her passion for using traditional, hand-printing techniques to create bold, modern designs. Her work has been featured on Business Insider and has appeared in exhibitions around London.
We spoke to Michelle about her work and inspiration. Read below what she had to tell us.
What attracted you to your craft?
I was tired of working as a graphic designer in front of a screen for 8 hours, and then coming home and watching Netflix on my laptop. I wanted to create/design something with my hands. I've always been attracted to typography so letterpress was the perfect fit. 
What does your typical day look like?
Letterpress printing on my vintage Vandercook press in my studio in Peckham.
Does your product have an environmental focus?
Yes, it is a zero-plastic product printed on FSC-certified paper with a recycled kraft envelope 
What is the unique selling point for your products? 
Handmade letterpress prints – printed on a vintage press with vintage wood block type
Where do you find your inspiration for designs? 
From other letterpress designers. I also have a part-time job assisting Alan Kitching, who has an incredible designer, mentor and friend. He always encourages me and gives great advice. 
Please can you provide a little more info on how your interest in design started?
My background is in graphic design, I studied for my BA in NYC and my MA in London. I've always loved working with type and designing typography. After spending so much time in front of a screen, I got tired of it and wanted to make something by hand. I took an induction course for letterpress printing at LCBA in Hackney Wick and fell in love with the whole printing process. I love how tactile it is. I always found time to print around my full-time job. In 2020 I was finally able to leave my job and go freelance. I started to pursue letterpress more and more.  
Do you have any favourite items in the collection?
The Rainbow Gradient Cards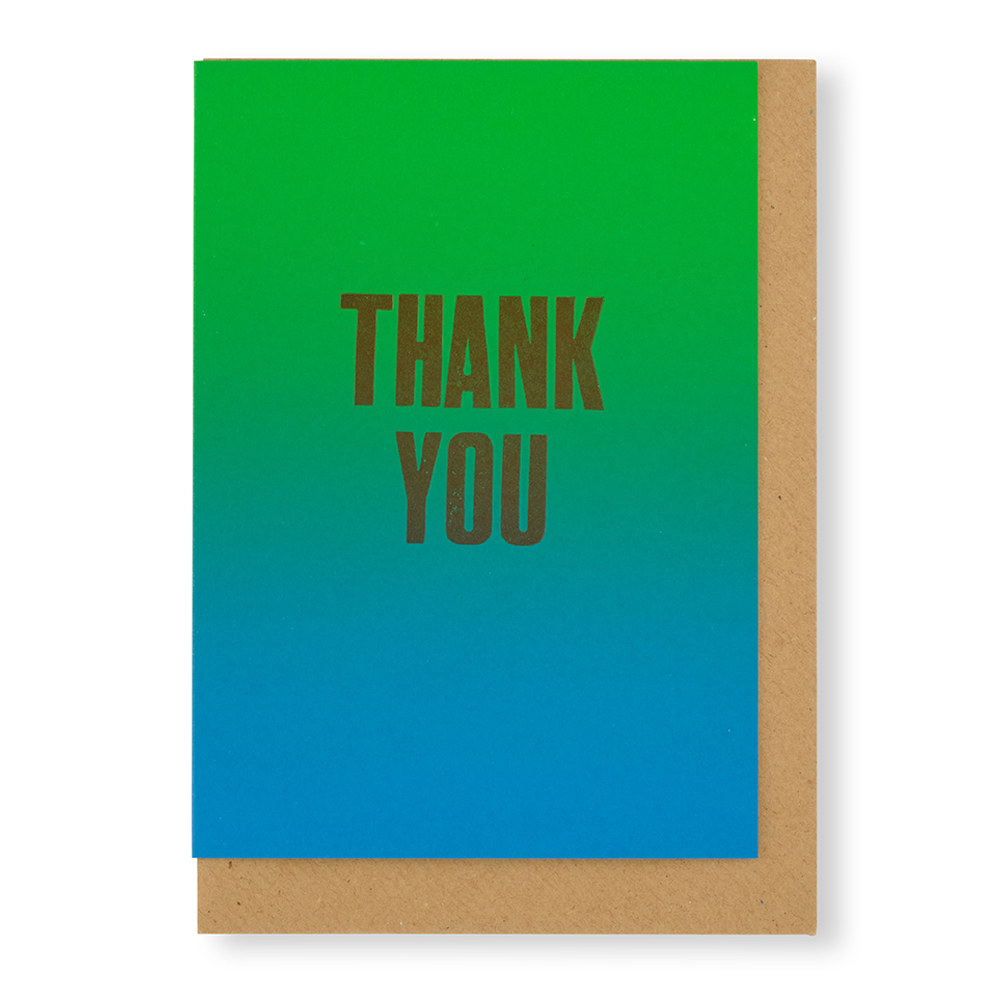 How would you summarise your collection in a few words? 
Bold & Bright
Does your work have a social impact?
Not yet…
What are your hopes for the future? 
I would love to do this full-time. I hope my cards will be stocked in all the big shops, I hope to be getting custom commission regularly, I hope to be running workshops with the local community, and I hope to be pushing myself outside my comfort zone, challenging myself to do different projects. I'm only getting started so I'm hopeful for the future.  
     11. What type of ink and machinery do you use? 
I use a vintage printing press called: Vandercook Press, which was made in the USA in the 1960s. I use vintage wood block type – in a variety of fonts and sizes. I work a lot with bright fluorescent inks. There is a lot of equipment needed for letterpress – furniture, quoins, keys, chase, etc. Letterpress printing has taught me patience, it really slows me down and teaches me to enjoy the process. I'm still new and make a lot of mistakes, there are a lot of adjustments needed as you print. But The final results are always worth it! Something made by hand is special, you can feel the impression where the ink touches the paper.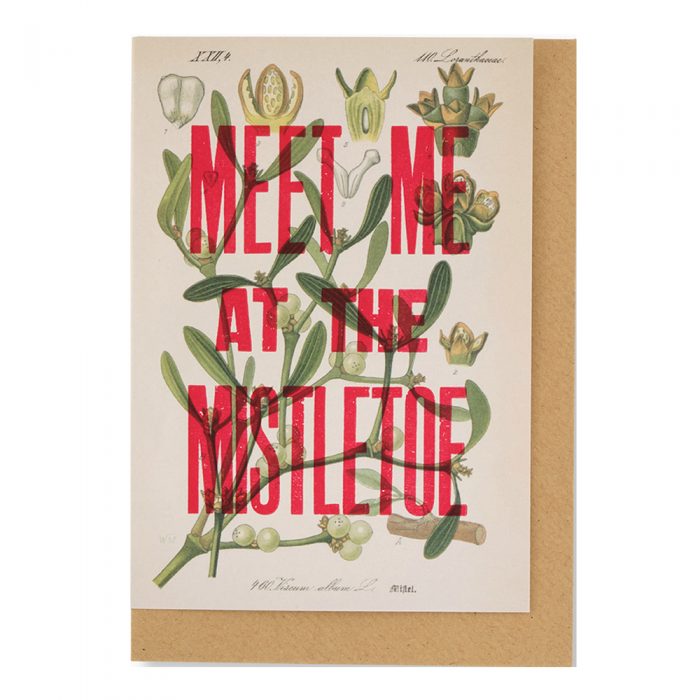 12. Is it just you and how did your small business begin?
Yes, at the moment it's just me and my press! My small business began in lockdown mid-pandemic. I bought myself a small tabletop press and started to film the BTS of the printing process and share it with the TikTok community. Things start to slowly build from there. I set up an Etsy shop, then my own website/shop, then I started attending trade shows and selling wholesale to gift shops, etc. It's a slow process to build up a business and a brand, but I'm really enjoying every step of the way. 
13. What is Letterpress?
Letterpress is a type of relief printing that uses carved wood blocks of different typefaces, carefully arranged and set by hand, inked, and pressed onto the paper. Letterpress has been used for centuries for printing typography, from newspapers to books, to stationery. However, its labour-intensive nature meant that as digital printing became more readily available, letterpress became a far less common printing method. But as printing sped up, the quality diminished. A letterpress print is an entirely different product from a digital print. The hand-rolled ink produces bold, rich colours, and the letterpress itself leaves a dimensioned, textured imprint on the paper, creating a tactile look and feel that is unique to each print. By bringing together tried and true techniques with modern, uplifting messages, Nice & Graphic's beautiful prints and stationery products are keeping a traditional craft alive. 
See all of Nice & Graphic's work here.