Meet the maker Rosie Victor, a Central Saint Martins convivialist potter, specialising in wheel thrown tableware.
Launched in 2021, 'CONVIVE: your eating and drinking companion' is Rosie's collection of calming and versatile tableware that meets the variety of needs we have in modern life. Seamlessly adapting to any environment, the tableware aims to disrupt formal dining by breaking down barriers and encouraging hospitality and companionship. Rosie is passionate about bringing people together through the act of dining. She believes good tableware enhances a meal by aiding every small action, directing focus to the diners gathered and elevating the foods' aesthetics.
We spoke with Rosie about her practice and the inspirations behind her 'CONVIVE' collection. See what she had to say below.
What attracted you to your craft?  
I love the relationship between people and clay. I love the fact that ceramics is such an ancient craft which is both beautiful and functional at the same time. The fact that clay can be used for such a wide variety of uses really drew me as well. It can be made into anything from a plant pot, to a plate to the tiles on space crafts.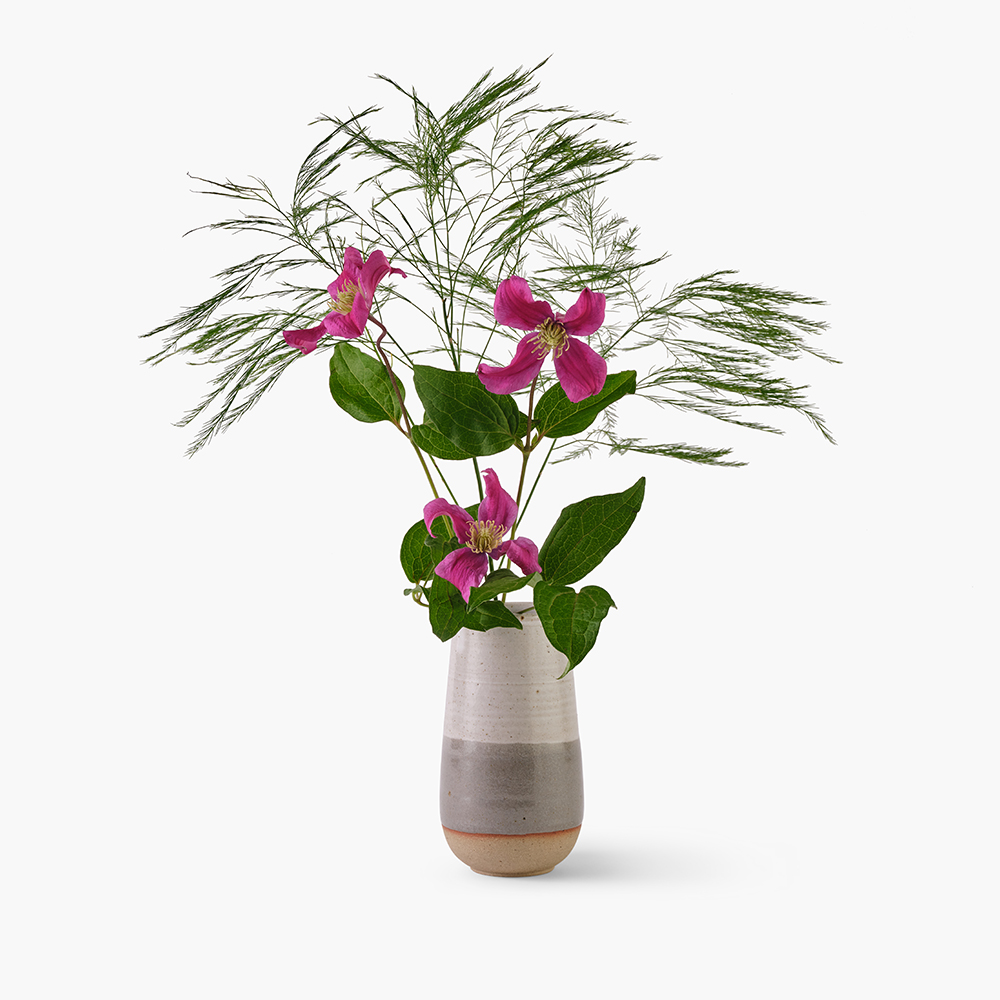 Bud Vase £22
What does your typical day look like?  
My days in the studio vary massively depending on what stage my work is at. I will usually start with a cup of coffee. I then plan what I have to do in the day. If I'm throwing, I'll start by weighing out and wedging all of my balls of clay to get rid of any air bubbles. I'll then spend a few hours sitting at the wheel, listening to podcasts and making a new batch of work. After lunch, I may have to glaze or turn a previous batch of work and load up the kiln for a firing.  
When you're not working / studying what do you enjoy doing? 
I'm a big fan of nature so I enjoy going for walks with my husband. I like exploring new spaces in and around London. Also, eating all of the amazing food you can find here. 
 What is the USP (unique selling point) for your products? 
The USP of my work is conviviality. A convive is an eating and drinking companion. Every product is designed to aid dining enabling the focus to be on those gathered at a meal, improving the environment / experience for them.  My tableware is simple yet effective. It enables barriers to be broken and encourages hospitality. Each item in the collection is a calm muted tone, enabling it to fit into any home's interior and highlighting the function it was created for. The pieces elevate the food on the plate / flowers in the vase / candle in the holder. 
 Where do you find / source your inspiration for designs?  
My inspiration comes from Scandinavian and Japanese designs. I'm drawn to earthy palettes that reflect the natural material of clay. My form and concept inspiration comes from observing how those around me interact with tableware and mealtimes. I'm constantly seeking how to make items more ergonomic and satisfying to use, regardless of limitations of the user.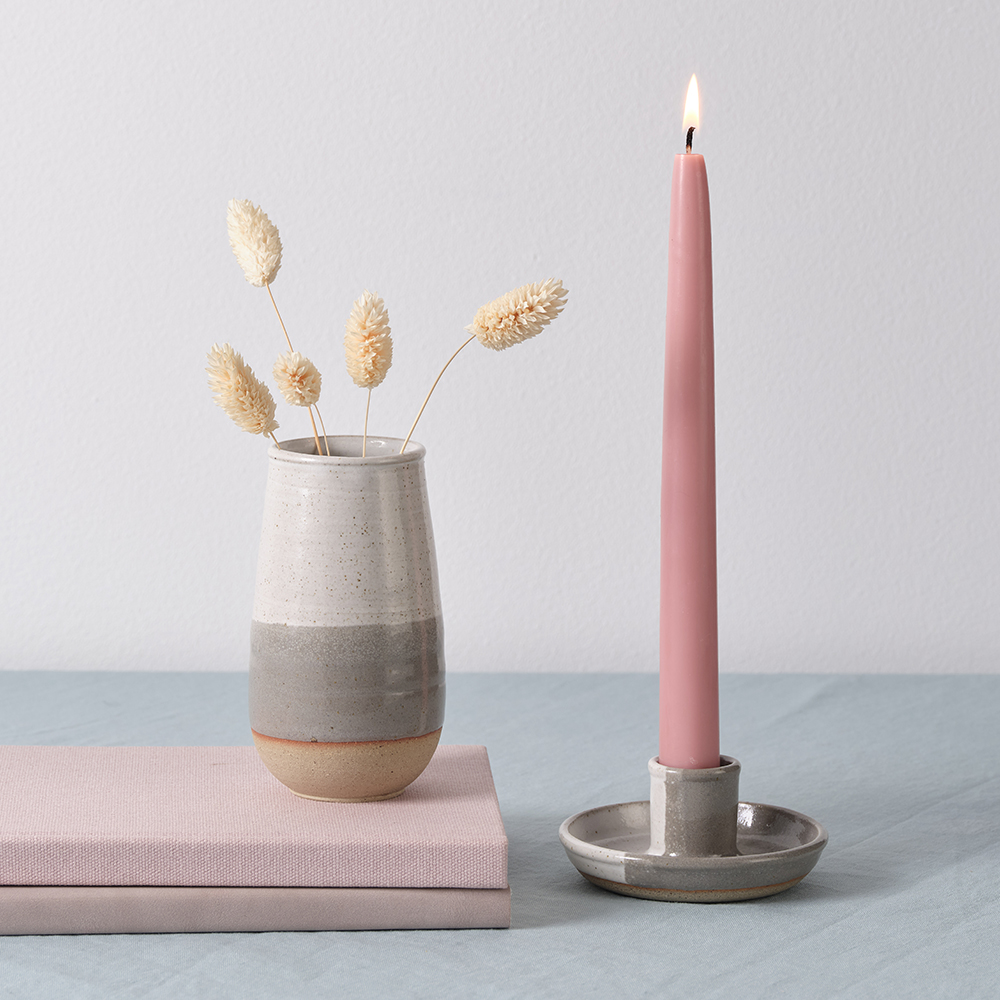 Bud Vase £22 and Candle Stick Holder £22
Please can you provide a little more info on how your interest in design started and developed?  
My interest in ceramic design didn't really start intentionally. I met a potter by accident while I was doing work experience at school. He taught me a lot of the skills I know. I found it incredible that you could make a functional item that you use everyday, from simply a lump of mud. From then, I was obsessed with clay, its properties and the vast scope of objects that it can make.  Once I started looking into famous potters from the past, my interest in design heightened. The thought of making unique and useful items that mean something to people spurred me on to create.
Do you have any favourite items in the collection?  
My favourite is the candlestick holder, it's simple and elegant and does the job perfectly while not taking up too much space.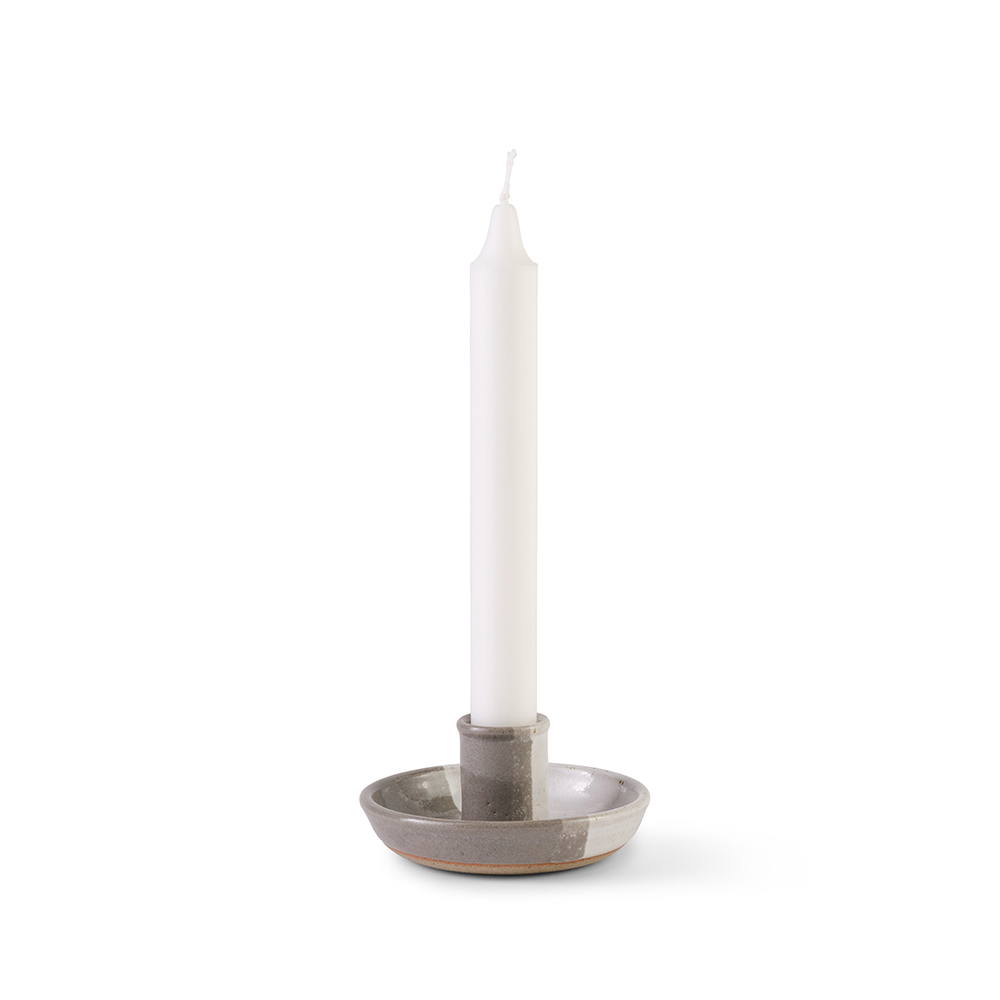 Candle Holder £22
How would you summarise your collection in a few sentences, words?  
Convivial, earthy, calming, elegant and intentional.  My collection has the early inklings of having a social impact, as my work centres around bringing people together over food in order to break down barriers and encourage hospitality.
What are your hopes for the future / where would you like to take your design career / collection?  
I would like my business to not only be putting objects out into the world but also to have a social impact. However, I am currently figuring out what form this takes. I feel passionate about bringing people together over meals and make tableware pieces to aid with that,I would like to develop this passion into an integral/ visible part of my business.