Pattern designer, Mahin Hussain hails from the bright and colourful land of Pakistan but now resides in Aberdeen, Scotland with her two children. Mahin's work consists of visual print-based collections inspired by her childhood memories and iconic cultural imagery of the sub-continent. Contrasting colours, bold imagery and tactile textures are what form the base of all her designs.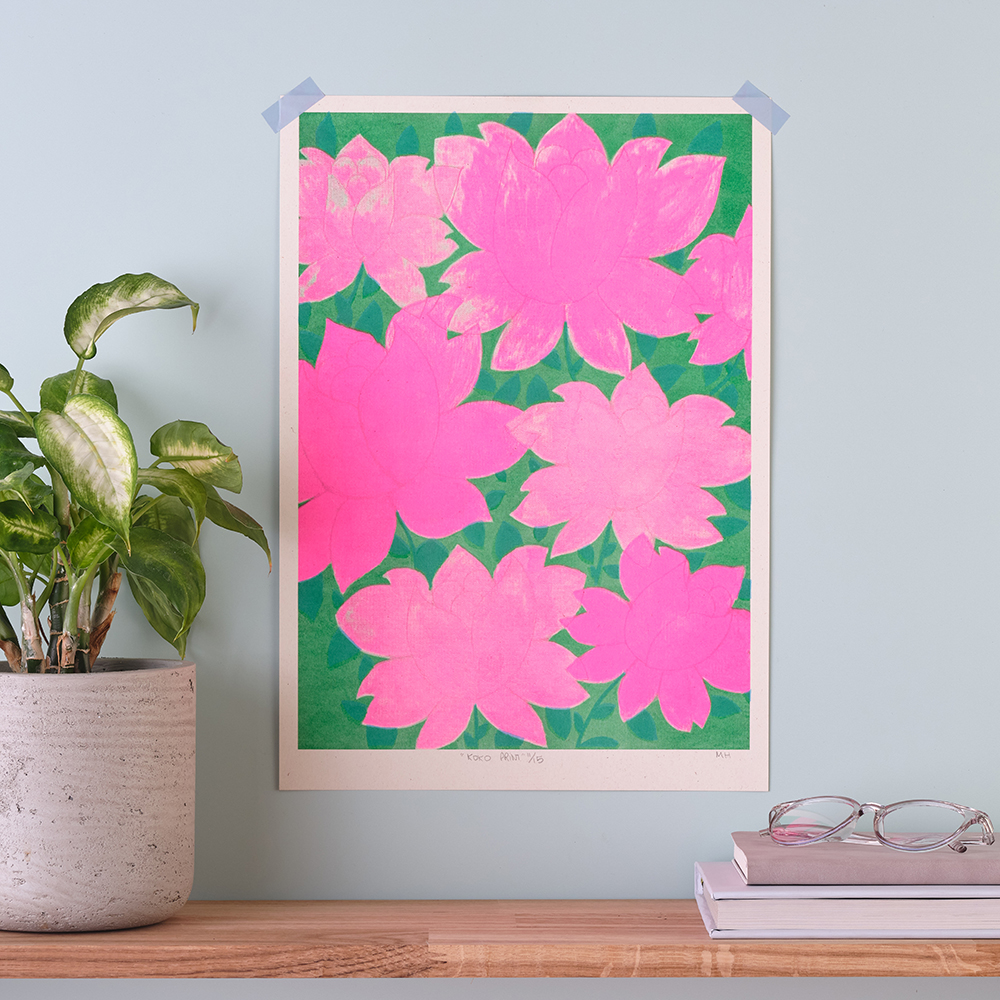 Green and Pink Floral Risograph Print A3 £25
Mahin's current collection is a nod to the quirky symbolism reimagined in her hand-painted style. She passionately believes in the power of colour and thinks everyone needs some in their life. 
We spoke with Mahin about her practice. Read what she had to say below.
What attracted you to your craft?  
 As a textile designer, creating joyous patterns has always come naturally to me. I had a long career as a handbag designer in Pakistan for over 10 years. In 2017, my family and I had to migrate to the UK leaving my career behind.
In the spring of 2020, we moved to Aberdeen weeks before lockdown hit. It was a time of extreme loneliness and isolation. I felt the need to express my identity in an unfamiliar place. I grew up in Pakistan immersed in its vibrant culture and iconic imagery. My Pakistan roots and childhood memories inspire artwork that is featured on my prints and greetings cards.  
What does your typical day look like?  
I am a mum of 2 and my littlest one has finally started full-time school. Once they are at school, I begin my day. I have a small corner in my living room that I've made into a dedicated work space. Most of the day is spent creating new patterns, packing client orders, replying to emails and organising posts for my socials. I also have to take product and style shots for my work as and when needed.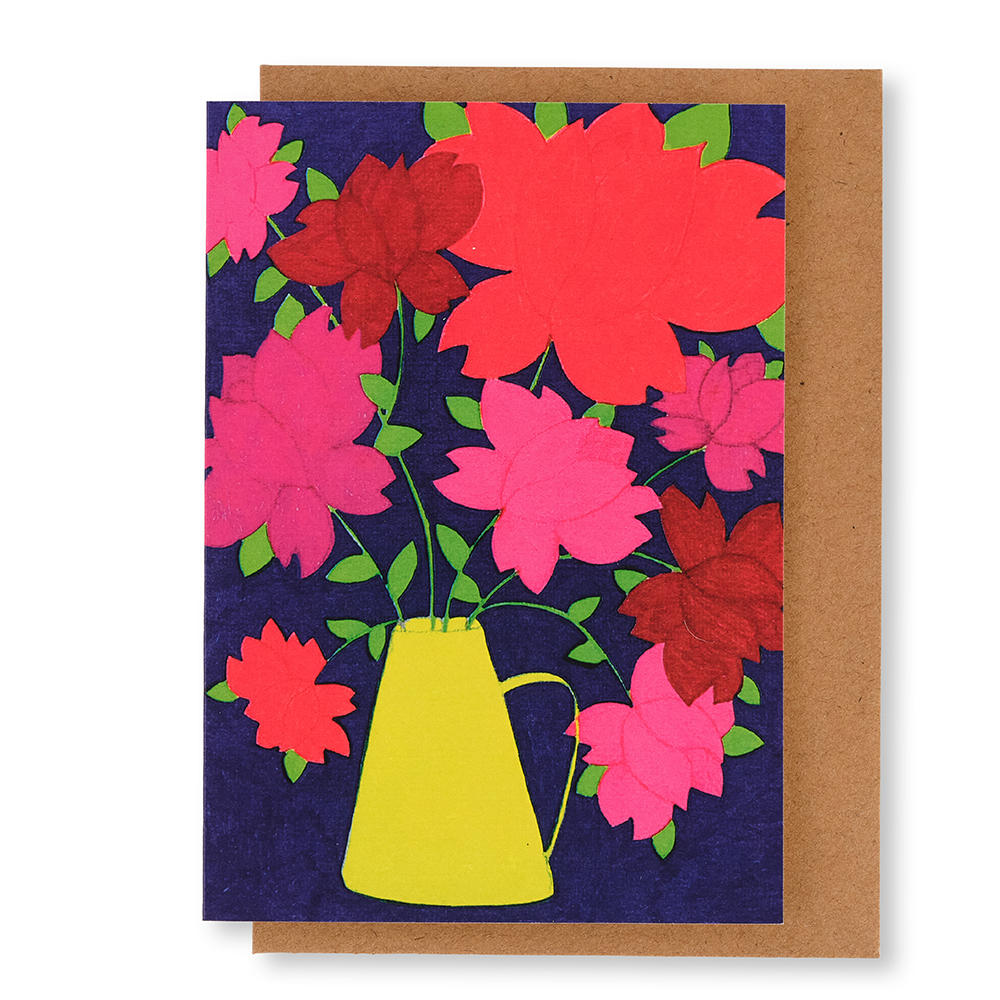 Floral Vase Greetings Card £3.50
When you're not working / studying what do you enjoy doing?  
As a mum, I have to focus on my children and their daily routine. I love watching TV particularly murder mysteries. Going on walks helps me to organise my thoughts and process ideas.
What is the USP (unique selling point) for your products?  
My artwork is unique, bright and exudes positivity. The patterns are part of my Pakistani background and each tell a story that is special.
 Where do you find / source your inspiration for designs? 
My rich Pakistani culture has always been the backbone for my work. As an artist, I am greatly inspired by my own unique background. I am passionate about expressing my story in a colour palette that is true to the magnificently bright culture I come from.
Please can you provide a little more info on how your interest in design started and developed?  
I graduated from an art college in Pakistan with a bachelors in textile design. At a time of cheap imported handbags, I decided to create a brand designing handbags that were made in Pakistan. I found bags to be a perfect canvas to highlight local politics, women issues and injustices within the society. During my time at London College of Fashion, I was inspired by the swinging 60s and retro art. I continued to design bags until 2017.
Since last year, I have bee focusing on using my work as a means of diversity to the local community. The visual language I use in my work is bold, loud and evokes emotion in the viewer.
Do you have any favourite items in the collection?  
I love the colourful Risograph Rooster prints.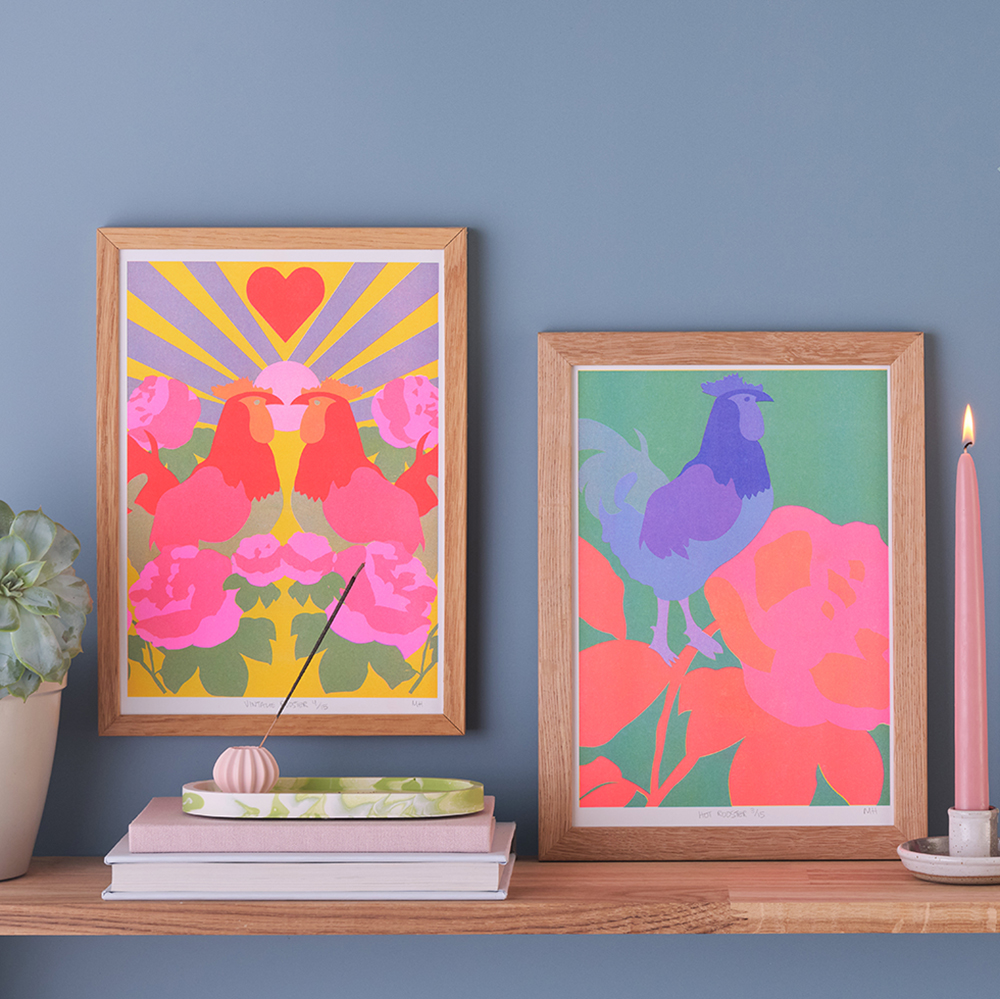 Rooster Risograph Print A4 £20
Does your work have a social impact?  
My work is a personal expression. Each artwork tells a story of my Pakistani background. In a world full of discrimination, I feel it is important to have an inclusive society. I am from an ethnic minority community and feel more than ever, it is the time to highlight different cultures, people and make society truly progressive and diverse.
What are your hopes for the future / where would you like to take your design career / collection?  
 With my passion for surface pattern, I am keen to explore other products and bigger canvases like murals, art installations and wallpaper.